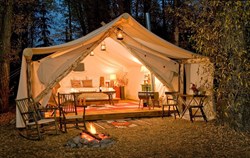 (PRWEB) November 25, 2013
On November 22, 2013, leading luxury camping and alternative lodging startup, Glamping Hub, received a $300K equity investment from undisclosed investors based in Cataluña, Spain.
Since launching its online booking platform in February 2012, Glamping Hub has become the premier reference for glamping in the online travel community. The portal features a collection of some of the best luxury camping sites and alternative accommodations around the world, with 63 countries represented in its rapidly growing directory.
With this first round of funding, Glamping Hub plans to grow its international team, expand its marketing program to reach and influence a broader audience, and improve the flexibility and functionality of the platform by re-developing and introducing new technologies to the GlampingHub.com website.
About Glamping Hub
Launched in 2012, Glamping Hub is the world's first online booking platform offering luxury camping and alternative accommodations on all 5 continents. With a vast range of accommodation styles, locations, prices, and amenities, Glamping Hub connects travelers with nature in a whole new way, providing off-the-grid, sustainable and truly one-of-a-kind lodging and outdoor adventure in some of the most breathtaking landscapes on earth. For more information, please visit glampinghub.com.