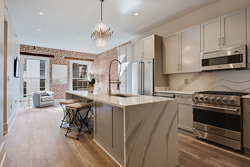 Each unit has been customized with its own unique features, so everyone can find a place that matches their style.
New Orleans, LA (PRWEB) June 14, 2017
220 Decatur, an abandoned French Quarter building, was developed into 16 beautiful residences on the upper floors and the ground floor was put back into commerce utilizing one space as Dollz & Dames, which is nationally recognized for its female retro and vintage clothing accessories and shoes. City Segway Tours, which has operations in Washington DC, San Francisco, Chicago Berlin and Munich, moved into the other commercial space in July of 2012 and continues to do great showcasing the city of New Orleans to thousands of tourists a year.
In 2016, Orleans Properties acquired the adjoining building and started developing 6 additional luxurious condominium units and an additional ground floor commercial space. When Cancienne was asked about the additional commercial space, he replied, "We have received several offers to lease the prime commercial space, but have declined because we want to find the perfect tenant that complements our residences."
The construction of this building is coming to a close this week, with an open house for the public to view on Wednesday, June 14th 4:00 - 7:00 pm.
"Each unit has been customized with its own unique features, so everyone can find a place that matches their style," says Christian Cancienne, owner of Orleans Properties. "The units are equipped with state of the art finishes, Viking appliances, oversized windows, hand selected marble and much more."
220 Decatur was also developed with modern conveniences in mind, the property offers housekeeping, room service and a full service maintenance. "We can't wait for the public to see & experience the whole building this week at the open house," says Cancienne.
The building has rich history dating back to the 1800s when it was constructed for a the Southern Shoe Company. 220 Decatur is located in the most desirable area of the French Quarter, with several restaurants, shops, House of Blues, and entertainment venues all on one block. Within two blocks, you'll find Canal Place Mall, Aquarium, IMAX Theater, Harrah's Casino, spas, art & antique galleries, the Mississippi River, as well as the world famous Bourbon street. This property is truly in the center of all attractions for all ages.
Orleans Properties is a real estate development firm committed to developing, preserving, and maintaining some of New Orleans most historic buildings in the most desirable locations in our city. By personally managing and maintaining impeccable properties each with its own unique and distinct features and providing first class service with extreme attention to every detail, the Orleans Properties brand has grown to be nationally recognized as the #1 place to live in the city of New Orleans.