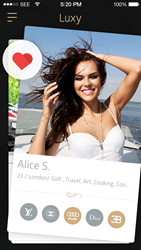 Los Angeles, California (PRWEB) October 30, 2014
Luxy, a dating app that claims to be "exclusively designed for the top 1%", has just launched its newest version, in which a very important feature called, "Verify income" is added. Users can now apply to be verified by clicking the "Verify Now" button on their profile.
On the profile page, Luxy users will be able to see an income icon under their profile picture, where they can fill it with the amount of money they earn annually. Right beside "Income", they will find a "Verify Income" button. Click on it, they will be prompted to verify their info by uploading their license or passport, and the next step is to upload their assets proof. Once the application is approved, a verification stamp will be added to the user's profile, indicating that this user is a verified millionaire.
While Luxy's previous version did ask users to complete their profile by adding their annual income, it did not provide a system to verify it. This new feature helps remove the doubt and according to the app's algorithm, will increase the chance of being liked 5 times.
Luxy also added a "Delete account" function to this version in case some users no longer feel the need to use the app.
The difference between Luxy and any other dating apps out there in the industry is obvious. General dating apps are usually for all kinds of people, but Luxy is only for wealthy people. According to their spokesperson, Luxy does not want people with low income to stay on the app. "The main reason why we develop such a feature is that we want our users to connect with real successful people, not with riff raff who lives in perpetual job insecurity and yet wants to be gold diggers."
Users can now update the app on their iOS or Android devices. For more information about Luxy, here's its official website: onLuxy.com.