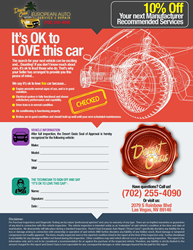 Buyers need to understand that certain precautions are in order when opting for a luxury European model...It is very important to gain security regarding the overall health of the vehicle. That's why we created the Desert Oasis Seal of Approval
Las Vegas, NV (PRWEB) October 14, 2014
Understanding the challenges posed by the process of buying and selling a pre-owned luxury European vehicle, the experts at Desert Oasis European Auto Repair launched the Desert Oasis Seal of Approval in Las Vegas, NV to help ease the burden on buyers, and provide endorsed credibility to sellers. The program provides enough security to non-expert buyers, so they can feel confident about their purchase decision, backed by a technical evaluation of the vehicle's real condition.
According to Art Spinella, president of CNW Marketing Research, financially, it is a better situation for the buyer to acquire a pre-owned vehicle, instead of new. Spinella substantiates his position by instructing shoppers that even when new-car incentives are accounted for, consumers still save an average of $3,200 when buying a 2 to 3-year-old car. He pledges that the original owner is the one to absorb the vehicle's market depreciation.
In accordance, the experts at Desert Oasis European Auto Repair take those observations even further, defending that, in comparison, the domestic brands tend to depreciate quicker than European luxury models due to a market demand and trend in favor of pre-owned luxury vehicles. That explains why they believe European models are indeed the most beneficial option to the savvy buyer.
Looking to facilitate the process of quickly identifying credible sellers of those pre-owned European vehicles, Desert Oasis is issuing a formal Desert Oasis Seal of Approval document to individuals and independent used car dealers who bring their vehicles for sale into the service shop at 2079 S Rainbow Blvd Las Vegas, NV 89146. The Desert Oasis experts are prepared to run an engine, electrical system, drive train, air conditioning and brakes checkup for a nominal fee of $105, and depending on their diagnosis, issue an official Seal of Approval. The inspection also includes a 10% off future Manufacturer Recommended Services, offered to the final buyer as a perk.
"Buyers need to understand that certain precautions are in order when opting for a luxury European model. For example, it is very important to gain security regarding the overall health of the vehicle. That's why we created the Desert Oasis Seal of Approval program – to provide buyers that peace of mind, and sellers a great tool to close deals with ease," says George Kiss, co-owner of Desert Oasis European Auto Repair.
With this program, George and Jacki Kiss, founders of Desert Oasis European Auto Repair, continue to support the community and the betterment of local business practices. In that same civic spirit, the two business owners recently reported their participation in the opening of Fire Station 108, where they united with Nevada Senator Harry Reid in another display of their commitment to the people of the Las Vegas area.
More information about Desert Oasis European Auto Repair can be found at http://www.desertoasisautorepair.com, and luxury vehicle owners - buyers or sellers - are also encouraged to visit the shop or call (702) 255-4090 to schedule an evaluation appointment. General questions regarding common or particular issues of luxury vehicles may also be submitted electronically to their knowledgeable staff through service(at)desertoasisautorepair(dot)com.
About Desert Oasis European Auto Repair
Desert Oasis European Auto Repair is a family owned and operated luxury auto repair service, servicing the Las Vegas, NV area at 2079 S. Rainbow Blvd. Las Vegas, NV 89146 for over 12 years. The staff is highly knowledgeable, and understands the importance of protecting their clients' investment and comfortable lifestyle. ASE certified and rated "A" by Angie's List, the company offers unparalleled service by highly trained technicians, and utilizes original OEM parts. Service and quality are always guaranteed, and additional services such as discounted car rental and shuttles are also available, to provide customers the ultimate auto service experience. Additional details are available at http://www.desertoasisautorepair.com or by calling (702) 255-4090.