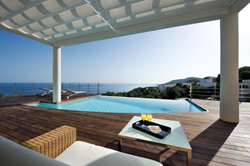 Beaten only by neighbouring Majorca, Ibiza is the second most-visited Balearic Island and attracted some 2.5 million holidaymakers in 2013.
(PRWEB UK) 29 April 2014
Since the 1960s, Ibiza, third largest island of the Balearic Archipelago which also contains Majorca, Menorca, and Formentera has established itself as one of the most popular holiday destinations in Europe. Beaten only by neighbouring Majorca, Ibiza is the second most-visited Balearic Island and attracted some 2.5 million holidaymakers in 2013, an increase of 6% over the previous year according to the Institute of Statistics of the Balearic Islands.
Situated just fifty miles off the eastern coast of Spain, Ibiza's continuing popularity can, in part, be attributed to the island's sublime natural beauty, outstanding beaches and a Mediterranean climate that provides year-round warmth and abundant sunshine during the summer months. However, Ibiza's renown as the hedonistic 'party capital' of Europe has further cemented its reputation as an unmissable destination for clubbers and revellers.
Away from the neon-lit nightclubs, live music venues and non-stop partying in resorts such as Ibiza Town, San Antonio and Playa d'en Bossa, Ibiza offers a wealth of less explored and unspoilt areas and quieter, more relaxing resorts in which to unwind. Cala Llonga, for example, is a tranquil and compact resort with a wide sandy beach, yet is just a 10 minute drive from Ibiza town. Santa Eulalia, meanwhile, is a small upmarket resort boasting a fashionable marina, art galleries and designer boutiques, and is famous for being the gastronomic hub of Ibiza. Enclosed by pine-forested hills, Cala Salada's sandy cove offers romantic seclusion in an area of natural beauty.
It is undeniably the island's diversity and ability to cater to the tastes and preferences of holidaymakers of all ages that makes it such a popular destination and ensures that quality holiday apartments and villas in Ibiza are always in demand. Alpha Holiday Lettings has recently introduced a collection of luxury villas on the island. They are all ideally placed in private and quiet locations but at the same time within easy reach to lively resorts. Among these superb properties are:
Cala Llonga
Ideally suited to couples and families looking for a sunshine holiday, Cala Llonga on the island's east coast is peaceful and picturesque, offering a wide, golden beach and sufficient shops, bars, restaurants and activities to please everyone, yet just minutes away from the attractions of lively Ibiza Town.
Property 112351: A large and stunning furnished villa in Cala Llonga (sleeps 12) with sea views, terrace and three pools, close to all local amenities, from €5000 - €18000 per week.
Santa Eulalia
Although Ibiza's third-largest resort, cultural Santa Eulalia is a quiet town with a beautiful palm-lined seafront, a long and safe sandy beach and some of the island's finest and most exclusive restaurants and shops. Laid-back and relaxing, Santa Eulalia is perfect for holidaymakers seeking a slower pace of life.
Property 145693: A stylish and modern villa in Santa Eulalia (sleeps 10) with private pool, solarium, terrace and gardens just 500 metres from the town centre and beach, from €5625 - €7625 per week.
Cala Salada
Those seeking an escape to an unspoilt and largely tourist-free resort with crystal clear waters and beautiful surroundings will adore Cala Salada and its sandy bay protected by pine-clad cliffs. Lively San Antonio's excellent restaurants, shops, bars and nightlife are just a stone's throw away however, allowing holidaymakers to enjoy the best of both resorts.
Property 120236: A new and spacious luxury villa in Cala Salada (sleeps 8) with pool and gardens, conveniently located just five minutes from the village of Cala Salada and the resort of San Antonio, from €1995 - €2520 per week.
About Alpha Holiday Lettings
Alpha Holiday Lettings has rapidly established itself as one of the top holiday rentals portal sites in Europe and offers self catering accommodation in Spain, England, France, Portugal, Italy, Cyprus, Turkey and other destinations around the world. The majority of the properties listed on Alpha Holiday Lettings are privately owned and are booked directly with holiday home owners. For more information, visit http://www.alphaholidaylettings.com.