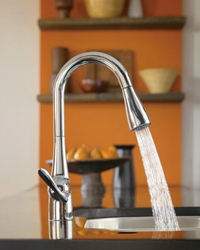 The faucet is one of the most oft-used fixtures in the whole kitchen, and one where the difference of even a hundred dollars in initial investment can make a huge difference in both style and usability.
(PRWEB) August 03, 2013
HomeThangs.com – the Online Home Improvement Store has made their goal to deliver the right product to the consumer. With that in mind, shopping and home design tips, as well as special product selections are being introduced.
More often than not, the style of a kitchen will dictate the style of many of the fixtures that go into it: what kind of cabinet fronts, what type of range, and even what kind of kitchen sink. But some choices are more obvious than others, and some are easier to overlook. It's easy to put a lot of thought, planning, and budgeting into these major purchases and fail to plan for smaller finishing details. The experts at HomeThangs.com know that some of those easy-to-forget features - especially the kitchen faucet - have the biggest impact on the day-to-day use of the space, and have introduced a guide to the most important faucet features to budget for.
The kitchen faucet is one of the easiest fixtures to forget in a large kitchen remodel, and leaving it until the last minute often means there won't be room left in the budget for a nice one. The very most basic kitchen sinks can cost as little as $15, which can look pretty good at the end of a long remodel, but while these provide the essential functionality, they don't come with a whole lot of style or flair. There are much better looking and more functional models out there that aren't unreasonably priced, provided they're part of the budget from the beginning.
For example, a vintage kitchen faucet can really make a French country, cottage, or other period-inspired kitchen. While a basic chrome-and-acrylic-handles model will do the job, a cross handled bridge faucet with an elegant spout and an antique metal finish can lend oodles of authenticity and style to the kitchen. The right faucet, paired with the right sink, can even become a signature focal point in the room – and easily one of the least expensive ones. Old fashioned faucets are charming and whimsical and make a beautiful finishing touch that shouldn't be overlooked.
The same is true in a modern kitchen. While a basic metal faucet will certainly match a modern decor, there are so many sophisticated, daring modern kitchen faucet designs out there that it's practically a tragedy to pass them up. Stunning pieces from professional designers like Fima Carlo Frattini or Ramon Soler are sleek and elegant, and though they're technically made of the same materials to do the same job, the visual difference is quite striking. Moreover, many modern designs come equipped with unique features that can enhance functionality as well.
Increasingly homeowners are tending towards professional style kitchens: restaurant quality ranges and range hoods, jumbo stainless steel kitchen sinks, dual dishwashers, multiple ovens, and the like. With this trend, many manufacturers have given residential kitchen faucets a commercial upgrade, too, equipping them with many features common in restaurant kitchens, like flexible pull-down spigots and built in high-powered spray nozzles, or even multiple faucet heads. These professional kitchen faucets can be a little pricier, but offer some of the most sophisticated functionality of any type of faucet, and are prefect for rounding out a professional kitchen style.
Even in a kitchen without a single obvious, dominant style, choosing the right faucet is still important. After all, the faucet is one of the most oft-used fixtures in the whole kitchen, and one where the difference of even a hundred dollars in initial investment can make a huge difference in both style and usability. Faucets with pull-out sprayers built into the body of the faucet rather than as a separate piece to be installed into the sink are becoming much more common and make dish washing and cleanup easy. Even a simple brushed finish can keep a faucet looking nicer than a basic chrome, which shows fingerprints and water spots.
In recent years a whole slew of high-tech faucets have come onto the market. These are simple but attractive, and though they don't conform explicitly to any particular style, they offer a wide range of features designed specifically for a working kitchen. Touch and motion activated faucets like those from Delta's Touch2O collection are the most popular, allowing the faucet to be turned on and off without touching the handles (preventing the spread of messes and cross contamination from dirty hands), but there are also a slew of other innovations: pedal-activated faucets, ones with fully articulated nozzles, built in LED lights, or even digital touch screen controls that can do everything from control the water temperature to play music.
So even if the kitchen faucet isn't the first item on the kitchen remodel budget, it should at least make the list. There's every reason not to skimp on a new kitchen faucet, including that it can be more expensive to replace a budget faucet than it would be to match a nice one with the sink and counter in the initial installation.
To see more luxury faucets, read the full article here.
HomeThangs.com is not only a home improvement superstore, it also provides expert design tips and a comprehensive shopping guide, taking the ideas from professional interior designers, and offering tips to the consumers on how to pick the products to best suit their needs.