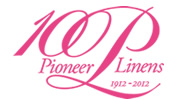 Pioneer Linens is woven into the fabric of Palm Beach County history - Owner Penny Murphy.
West Palm Beach, Florida (PRWEB) February 12, 2015
The family-owned and operated storefront is more than a retail location; it's a destination! Pioneer Linens has been the most prestigious linen store in the south, garnering praise from the likes of the National Home Furnishing Council and National Bed and Bath Association, not to mention four generations of community members since 1912.
"Pioneer Linens is woven into the fabric of Palm Beach County history," said Owner Penny Murphy. "Our excellent products and nurturing way with customers are the backbone of our business. Our clients are as committed to us as we are to them!"
The shopping mecca has been handed down from generation to generation, beginning with Max Greenberg to his son George, who took the helm after serving in World War II, then on to his daughter, Penny Murphy, to her two daughters and son. Today, Penny Murphy and her children are involved in the operation, with Alan Murphy, Jr. in charge of the Yachting Linens division in Ft. Lauderdale, catering to owners, captains and crew.
Throughout its long history, Pioneer Linens has survived and thrived, despite some economic challenges over the years. Whether in Lake Worth or in the Palm Beach area, the business is well known, and people have an emotional attachment to the establishment. Generations have shopped – and continue – to make their purchases there.
Everything people need and want to help them live a luxe life every day is within the walls of Pioneer Linens' storefront, from the latest fashions in bedding, bathing, tabletop, décor and loungewear. Selections include designer bedding, sheets and pillowcases, bedding essentials and accessories; designer towels, vanity and bathroom accessories; tablecloths, placemats, napkins, and items for the kitchen and entertaining; area rugs and home accents; home fragrances, and linen wash and silver care solutions.
The establishment and its knowledgeable and personable staff can be especially helpful to gentlemen searching for gifts on holidays such as Valentine's Day. Many have found the selection of bath indulgences, body fragrances, sweaters, pajamas, nightshirts, robes and slippers, or simply a Pioneer Linens' gift certificate to be the perfect gift. There are also elite gift offerings available from the likes of Abyss & Habidecor, Rani Arabella, John Atkinson, Loretta Caponi, Yves Delorme, Labrazel, Matouk, Scandia Home, Sferra, Kim Seybert, and Windisch. Individuals are invited to visit 210 Clematis Street in West Palm Beach or 1338 S.E. 17th Street in Fort Lauderdale, or log-on to pioneerlinens.com to search for the perfect present.
The website is also offering how-to's for romantic napkin folding for those planning to stay in and make dinner for two in celebration of Valentine's Day this year. The website also offers consumers the opportunity to sign up for news, special exclusive offers and invitations, request a catalog, read the corporate blog and join the conversations on Facebook and Twitter (facebook.com/pioneer linens, and twitter.com/pioneer linens, respectively).
Shoppers who have questions or need information can phone 1-800-207-LINENS toll-free, or 561-655-8553 locally. The Yachting Linens division phone number is 954-990-4842.