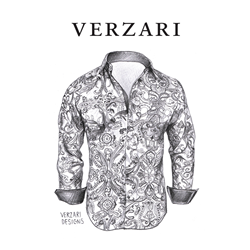 Every Verzari shirt is handcrafted using the finest fabrics
Houston, Texas (PRWEB) September 04, 2014
Mind blowing is what first comes to mind when looking at the gallery of men's designer shirts from Verzari.com. Every shirt has its own name and detailed vivid description that just screams luxury and attention to detail.
Surprisingly the prices for these beautiful one of a kind shirts are remarkably low. Designer shirts of this caliber would normally fetch hundreds of dollars each at high end department stores like Saks or Nordstrom's, but every shirt found at Verzari.com is priced below $90.
Men who wear Verzari instantly make a bold fashion statement. Verzari shirts are designed to be worn untucked and the cut is a modern, tapered fit that makes just about any man wearing it look as if he just stepped out of the gym.
Every Verzari shirt is handcrafted using the finest fabrics and comes packaged with a set of stainless steel collar stays. Every Verzari shirt is a limited production and has its own name like Stardust, Gunner and Purple Haze just to name a few.
Verzari Shirt Features

Made of 100% premium, high quality cotton
Includes two stainless steel collar stays. Verzari never uses plastic!
Hand made and individually inspected. These are not mass produced.
Includes two extra buttons just in case (discreetly sewn on inside)
Unique designs with intricate contrasting fabrics on collar and cuffs
Read the full story behind Verzari: http://www.verzari.com/our-story/
View the entire Verzari shirt collection: http://www.verzari.com/view-all-shirts/