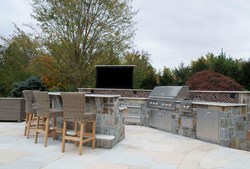 An outdoor kitchen can be one of the most rewarding additions to your backyard!
(PRWEB) December 14, 2013
Outdoor kitchens are a great way to maximize the usage of space on your property as well as the time your family and friends can spend enjoying your backyard. They can provide a welcoming outdoor space for people to gather and peacefully wind down at the end of a long work day, or be a very functional and important focal point when hosting guests for a party or get together. Either way an outdoor kitchen can be one of the most rewarding additions to your backyard and should not be overlooked when rethinking the look and functionality of your property.
There are some exciting new features related to the outdoor kitchens, living and eating areas for 2014 that can make spending extended time outdoors even more comfortable and pleasant than it ever was. These features include radiant heating systems, televisions on lifts, surround sound systems and LED lighting fixtures.
The ability to still use your outdoor kitchen or bar late into the fall season and early in the spring season is possible through the use of radiant heating systems. The radiant heating system will heat the stones of your outdoor patio to near 90 degrees either through electricity or by pumping hot water through hidden pipes between and under the patio stones. The heated stones will aid in maintaining a more enjoyable microclimate on your patio as the weather starts to get cooler. In winter months the radiant heat melts the snow making the grill easy accessible.
Installing an outdoor TV in your outdoor kitchen or bar is another great way to lengthen the enjoyment of spending time outdoors in your own backyard. The TV will give you the option to stay outside longer and watch your favorite TV shows on a beautiful night instead of retreating indoors. It can also be the center of attention during a big sports game on the weekends or for watching movies with family friends. The beauty about installing a TV attached to a hydraulic lift is that you can hide and protect the TV when it is not in use. This way it won't stick out and detract from the view of your backyard, and can be protected from any harm caused by children or the environment.
Using a built in surround sound system in your outdoor kitchen design would help to enhance the experience of sitting outdoors. The outdoors tends to be noisier than sitting inside the walls of your home, so a surround system makes sure you hear everything at a comfortable level. It can also be hooked up to your favorite music adding to the experience and enjoyment you get from spending time in your backyard.
Finally, LED lighting when installed properly and used in the correct way, can enhance and show off many aspects of your beautiful outdoor kitchen. Aesthetically it will make your outdoor living space more pleasing as the sun begins to set and day turns into night. Functionally, LED lighting will also save you a significant amount of money in energy cost since they operate at 90% efficiency. This allows you to extend the lighting usage needed to make your walkways and outdoor kitchen safe for nighttime use. Another benefit of the LED fixtures is that they carry an extended warranty of 10-15 years for the unit as well as the bulb.
As individual items these are all great new features to enhance your backyard and maximize the usage of your property. Combined together they can create an incredible experience that will provide endless hours of return for your family as well as wow any guests that visit.
Celebrating over 24 years in business, 14-time international award winner Cipriano Landscape Design distinguishes themselves from all other swimming pool & landscaping companies with their extensive experience. The Mahwah, NJ company provides more than just a pool installation. As a recognized national leader in custom residential & commercial landscaping, masonry, swimming pools and water features, the NJ firm has been offering complete estate transformations since 2001. With a design office headed by 15-year-veteran, Certified Landscape Architect William Moore, the Cipriano team has won 75 awards of excellence since 2006 and in 2013 was named By Pool And Spa News to the "Top 50 Pool Builders.
NJ Custom Swimming Pools