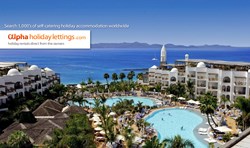 The additional resources will allow us to build upon our existing well-established social media presence.
(PRWEB UK) 23 October 2013
Building on a number of recent successful campaigns on various social media platforms, AlphaHolidayLettings.com is to step up its marketing efforts on social media and search engine optimisation by expanding its web team. The latest social media campaigns resulted in a 20% increase in website visits and more than double the amount of customer interactions on social media websites including Twitter and Facebook.
One of the recent successful campaigns was a Facebook competition "May The Best Holiday Home Win", in which holiday home owners were invited to submit photos that best show off their vacation homes. Entries were then uploaded to their Facebook page for public voting, and the entry that received the most number of "likes" won free holiday rental advertising. Response from both holiday home owners and Facebook fans far exceeded the company's expectations, and has led to an increased number of owners listing their properties on Alpha Holiday Lettings' website.
"We strive to provide the best customer experience in the vacation rentals industry," says Tom Lei from Alpha Holiday Lettings, "and social media is an extension of our strong customer service which includes an online live chat function on our website – a facility that is not normally available on vacation rentals websites."
On the social media front, Tom Lei explained, "The additional resources will allow us to build upon our existing well-established social media presence, and further promote latest villa holidays special offers, increase interactions with customers, as well as improving our SEO profile in regards to search engine rankings."
The company has also recently launched their new profile on popular social media platform Instagram, sharing photos of stunning holiday destinations from around the world.
About Alpha Holiday Lettings
Alpha Holiday Lettings a leading holiday rentals website, offering self-catering apartments, cottages and holiday villas in Spain, England, France, Portugal, Italy, Cyprus, Turkey and other destinations around the world. Properties listed on Alpha Holiday Lettings are privately owned and are booked directly with holiday home owners. For more information, visit http://www.alphaholidaylettings.com.