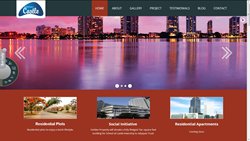 While Bangalore growing at a rapid pace, its traffic mess is growing even more. So, Mysore has become the next favoured destination for IT companies.
Mysore, India (PRWEB) September 20, 2014
An integrated township, GoldenProperty's Castle is the most ambitious real estate venture of the reputable real estate developer CANH Media Ltd. that offers luxury villas in Mysore for those who love to have their independent space. The luxury villas in Mysore built by the best designers & architects reflect style, luxury and sophistication.
A senior executive at GoldenProperty's castle said, "While Bangalore is growing at a rapid pace, its high traffic rates are growing even faster. So, Mysore has become the next favoured destination for IT companies. The moderate climate, lesser population, huge business potential and excellent living conditions make Mysore an ideal choice for home buyers and investors."
The villas offered by GoldenProperty's Castle are a blend elegance and luxury in the right proportions. Spread over a large area, the township offers facilities like swimming pools, schools, shopping complexes, healthcare facilities and much more, inspiring people to enjoy a comfortable and luxurious lifestyle. GoldenProperty's Castle was proposed to be built as per the standards of MUDA approved sites in Mysore.
The senior executive further added, "The real estate market in Mysore has grown phenomenally in the last 7-8 years, giving extraordinary returns to the investors. Moreover, there is news that some of the biggest IT companies in India might extend their operations in Mysore after Infosys. Along with this, infrastructural projects like the upgrading of the airport, doubling of the Bangalore-Mysore railway track and the brand new Outer Ring Road (ORR) will also help boost the city."
The list of amenities on offer at GoldenProperty's Castle does not end here, as it has so much more to offer to its residents. With a recreational club equipped with a swimming pool, jacuzzi, sauna and spa, GoldenProperty's Castle also caters to the recreational needs of its occupants to perfection. GoldenProperty's Castle is an excellent choice for those who want to buy luxury villas in Mysore, whether for residing or for investment purposes.
About The Company:
Canh Media Ltd. is a frontline real estate company that has constructed residential properties and villas in Bangalore and Mysore. They have a track record of developing affordable homes and residential plots without compromising on the construction quality. Currently, GoldenProperty's Castle, one of the most prestigious projects of CANH Media Ltd., is offering a wide range of houses in Mysore at affordable rates.
Contact Information:
Golden Property's Castle
RK Plaza, Opp JSS Law College
New Kanthraj Urs Road
Saraswathipuram, Mysore
Phone: +91-9243666555
Email Address: info(at)goldenproperty(dot)in
Website URL: http://www.goldenpropertycastle.com/
###