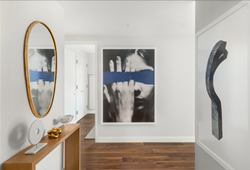 It embodies the cool, trendy vibe of the downtown Tribeca neighborhood and goes beyond a basic model rental unit that buyers often see, using carefully refined touches such as an accent wall to create a striking entrance.
NEW YORK (PRWEB) February 13, 2019
As the luxury rental market heats up, a new development in Tribeca will soon reveal downtown's newest residences available for rent at 440 Washington Street. Real Estate management and investment company, Ponte Equities, called upon award-winning luxury design and real estate marketing firm, Interior Marketing Group (IMG), to design move-in-ready units up to the standards of buyer clientele. As the top choice for luxury sales design, IMG's bespoke aesthetic sets these units apart from the market with custom furniture, decor, and art. This preeminent development, nestled on Tribeca's most iconic cobblestone street, features forty-nine stunning residences paired with some of the best amenities available in New York City: a gym designed and outfitted by Tribeca celebrity favorite, The Dogpound; two common roof terraces with sweeping views of the city; a resident's lounge that embodies Soho House vibes; 24-hour doorman and concierge; and on-site parking.
According to rental predictions for 2019, these units will be in high demand among New York real estate. Top brokers like The Eklund|Gomes Team have turned to the luxury market experts of IMG, to gain a competitive edge. "With interest rates and sales prices high, renting will remain more attractive than buying for many New Yorkers in 2019," a report by StreetEasy shows. Furthermore, another 2019 report reveals rents in downtown neighborhoods will be better than ever, as "rents in the outer boroughs have ticked up so much that Downtown Manhattan looks relatively reasonable — and still just as cool."
Among new luxury rental developments, 440 Washington stands a cut above the rest. The new partnership with IMG and Ponte Equities is an exciting endeavor which fuses IMG's aesthetic and experience appealing to luxury clientele with Maria Lee of Dimension NYC's vision. IMG and Founder and President, Cheryl Eisen, are well-known for their seduction of A-List buyers, sellers, and clients, including Chrissy Teigen and John Legend, Bethenny Frankel, Daniel Craig, and more. 440 Washington remains consistent with IMG's track record. "The residences capture the bucolic spirit of the neighborhood while maintaining an effortless blend of modern convenience," said Anthony Barillo, listing agent and Licensed Real Estate Broker at Douglas Elliman. Dimension NYC, with the help of Victoria Adamo of the Eklund Gomes Team, outfitted the units with floor-to-ceiling windows, 5" plank walnut floors, state-of-the-art appliances, and meticulously designed floor plans.
The design of the model unit was inspired by the newly renovated architecture and design of the building. "It embodies the cool, trendy vibe of the downtown Tribeca neighborhood," commented Eisen, "and goes beyond a basic model rental unit that buyers often see, using carefully refined touches such as an accent wall to create a striking entrance." The interior design maximizes space and functionality through the use of mirrors, custom floor-to-ceiling drapes, and sleek, modular furniture.
Nestled in the idyllic Tribeca neighborhood, residents will enjoy access to some of the city's best offerings including iconic restaurants, boutique shops, cobblestone streets, charming parks, and direct access to the Hudson River. The rental units hit the market February 15th 2019, starting at $5,300 and ranging up to $12,000.
About Interior Marketing Group
Interior Marketing Group (IMG) is the largest luxury real estate design and marketing firm in the United States. In addition to providing interior design services to luxury homeowners, IMG's award-winning staging and interior marketing services enable the most coveted properties and developments in the world to sell faster and at greater multiples than the market's average. IMG is regularly featured in publications including Forbes, The New York Times, The Wall Street Journal, Architectural Digest, Interior Design Magazine, Inc. Magazine, Robb Report, Vogue, and on major television networks including BravoTV, NBC, CBS and Fox.
About Douglas Elliman
Established in 1911, Douglas Elliman Real Estate is the largest brokerage in the New York Metropolitan area and the third largest residential real estate company nationwide. With more than 7,000 agents, the company operates approximately 115+ offices in New York City, Long Island, The Hamptons, Westchester, Connecticut, New Jersey, Florida, California, Colorado, and Massachusetts. Moreover, Douglas Elliman has a strategic global alliance with London-based Knight Frank Residential for business in the worldwide luxury markets spanning 60 countries and six continents.
About Ponte Equities
Ponte Equities is a real estate management and investment firm run by Vincent Ponte. Formed in 1977, the firm has been a fixture in Tribeca. Today it has more than 30 properties under management. Ponte has partnered with the Related Companies over the years, building a 13-story luxury condo building in Tribeca, as well as developing the nearby 261 Hudson Street and an 80-20 split residential building on 460 Washington Street. In addition, in 2015, the firm announced one of their newest endeavors: the renovation of a Hurricane Sandy-ravaged building at 440 Washington into a 11-story residential building.