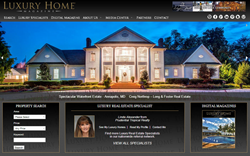 We are more that just a magazine, we are a fully integrated print and digital medium that focuses on one thing: luxury.
(PRWEB) July 29, 2014
Luxury Home Magazine®, the largest publisher of market specific luxury real estate publications, has launched their newly revamped and fully responsive website. The site features an updated look, color palette and a host of new features to better serve buyers, sellers and real estate professionals related to luxury real estate.
"Our team has been hard at work for over a year, fine tuning this site and making the perfect adjustments to really make luxuryhomemagazine.com an interactive experience for the user," said Brad Taylor, CEO and founder of LHM. "We are more than just a magazine; we are a fully integrated print and digital medium that focuses on one thing: luxury. Our site needs to maintain the same level of quality and visual appeal as the homes we showcase in Luxury Home Magazine." The new site not only features an updated look, it's also fully responsive to adapt to the ever-growing age of mobile device accessibility.
"We have seen a constant rise in use of mobile devices and tablets accessing our website," said SVP of Luxury Home Magazine, Emile Bonfiglio. "The response we see is amazing; when our magazines hit the mailboxes we see an instant surge of site visitors. There is a direct connection between our print distribution and our digital usage." Luxury Home Magazine has long maintained the stance that targeted print distribution combined with online exposure is the most effective way for buyers and sellers of luxury homes to connect with one another.
The launch of the new luxuryhomemagazine.com is just one of the many steps that Luxury Home Magazine has taken to go beyond the traditional channels of real estate marketing for their clients. In recent years LHM has taken a proactive approach to embrace and capitalize on various digital media forms to showcase amazing homes, estates, ranches and condos offered for sale by luxury real estate specialist across North America.
Luxury Home Magazine has a robust social media presence and strong interaction with fans and followers. The new responsive site also allows users to subscribe, at no cost, to receive free digital magazines from the different markets LHM represents. These issues are delivered as soon as the newest issue is published to help further the reach and audience that LHM serves.
This new site is the first of a multi-phased plan for site upgrades and digital product releases from Luxury Home Magazine over the next year. This is all part of LHM's plan to further connect and strengthen the bonds between their loyal network of luxury real estate specialist and those searching for luxury homes for sale.
About Luxury Home Magazine:
Luxury Home Magazine is a division of Sunshine Publication, Inc. Online magazine content featuring stunning luxury homes and the finest luxury real estate and more corporate information can be found at LuxuryHomeMagazine.com