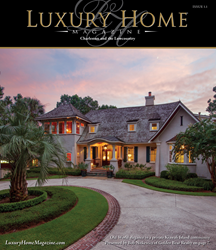 we are so excited to be welcomed in as members of their teams and to help them grow their business.
El Dorado Hills, California (PRWEB) November 05, 2015
Luxury Home Magazine® proudly announces the launch of Luxury Home Magazine of Charleston & the Lowcountry.
The Charleston market is the third new market Luxury Home Magazine has launched in 2015; Nashville and Utah were launched previously. Luxury Home Magazine is the largest publisher of market specific luxury real estate publications throughout North America.
Charleston fits all the criteria for being the perfect location to launch Luxury Home Magazine. From the watercolor mansions along the Historic Battery to the oceanside estates of Kiawah Island's luxury golf and beach communities, there is a reason Charleston receives consistent accolades year after year by residents and tourists alike. Recently ranked by Travel + Leisure readers as the #1 city in America and Canada, and #2 in the world, Charleston is a growing city with a small-town feel, steeped in history, that allures faithful travelers back year after year. With Charleston's rich history, impeccably landscaped gardens, and stunning waterfront views, it's no wonder travelers ranked the city so high. It is no surprise that luxury real estate in the Charleston & Lowcountry region is some of the best in the country, if not the world. Luxury Home Magazine of Charleston & the Lowcountry is ready to showcase these incredible properties to luxury buyers and sellers.
The debut issue is filled with several of Charleston's top luxury real estate specialists, each representing the finest properties for sale in the Charleston area and surrounding Lowcountry. Some of Charleston's most exclusive communities, including South of Broad (Historic District), Mount Pleasant (I'On, Old Village), Kiawah Island, Isle of Palms, Sullivans Island, Daniel Island, and many more, are featured in the premiere issue. To view luxury listings in Charleston & across the Lowcountry visit http://www.luxuryhomemagazine.com/charleston
"The launch of this market was successful because we had all the correct elements in place. We have an extremely talented Publisher, a market with world-class properties and consumers who were underserved by the lack of options for promoting high end real estate" said Emile Bonfiglio, Senior Vice President of Market Development.
Publishers of the Charleston magazine, Solar and Jessica Hing, offered these comments. "Our team is very proud of the work we have done here and we look forward to serving this market for many years to come. We have been preparing for the launch of this magazine since we opened the Charlotte market 4 years ago. We knew this product would be well received, especially after the success that we've seen in Charlotte. Cindy O'Neal; Co-Publisher says the feedback we have received from our clients has been incredible; we are so excited to be welcomed in as members of their teams and to help them grow their businesses."
Each Luxury Home Magazine is owned and operated by Publishers who are entrepreneurial in spirit and want to represent a successful and high end product in their market. Brad Taylor, CEO discusses the process of finding the right Publishers to open a new market. "The Publisher is the face of the company in the market, so making sure they are a good fit with LHM's core values is essential. We have a very thorough process that allows LHM, and the potential future Publisher, to fully understand and become comfortable with the challenges and complexities of running a business like ours. While the business model of real estate publications has existed for decades, it is very hard to build a long term, sustainable company without following a system like ours. We have some of our markets entering their 14th year of publishing in 2016 and they are producing some of their strongest issues to date. " The website http://www.luxuryhomemagazine.com/opportunity will provide a step-by-step overview for individuals looking for the opportunity to own and operate a publishing/marketing media business.
Luxury Home Magazine.
About Luxury Home Magazine:
Luxury Home Magazine® is a division of Sunshine Publication, Inc. / LHM Media Group. Online magazine content featuring stunning luxury homes, the finest luxury real estate and luxury real estate specialists can be found at http://www.LuxuryHomeMagazine.com. For more information: info(at)lhmmediagroup(dot)com