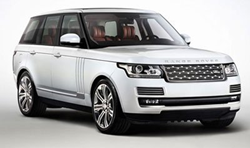 Americans always have been, and always will be, fascinated by powerful automobiles.
Los Angeles, CA (PRWEB) June 26, 2015
Although data is so far only available for the first few months of 2015, early reports, outlined in a June 18th article on Breaking Energy, showed that Americans' desire to drive SUVs is rising. While part of this can be attributed to the fact that gas prices at the beginning of 2015 were lower than they had been for much of the last decade, SUV sales numbers have been on the upswing for the last several years, well before the arrival of lower fuel prices. "Americans always have been, and always will be, fascinated by powerful automobiles," says Beverly Hills rental agency Luxury Line Auto Rental, "and this news is simply the latest indication." According to the rental agency, this data makes sense in light of the healthy flow of customers that they have had in the past several years asking for SUV rentals in Los Angeles. The agency reports that there are three brands in particular that customers of theirs regularly ask for:
1. Range Rover – As far as consistency across models, there are few other luxury car makers so focused on perfecting the luxury SUV than the makers of the Range Rover. With both the Range Rover HSE and the Range Rover Sport in their fleet, Luxury Line Auto Rental recognizes the power and luxury that Range Rover brings to each one of their vehicles, and so do its customers.
2. Cadillac – While most would consider Cadillac's portfolio of vehicles more varied than that of Range Rover, their entry into the luxury SUV category, the Cadillac Escalade, has become iconic since its introduction in 1999. The 2015 model available at Luxury Line Auto Rental is the first model year in the revamped fourth generation of Escalade, so many previous model owners rely on a rental from Luxury Line to test out whether or not this new model is worth buying. Most customers, reports Luxury Line, think that it is.
3. Chevrolet – Last, but certainly not least, the Chevrolet Suburban is one of the most popular SUV choices, with by far the most history behind it. The fact that the Suburban dates all the way back to 1934 is illustrative of Americans' love of large vehicles. This 2015 model year of the Suburban is also a reboot. So, as with the Escalade, many Luxury Line Auto Rental customers are renting it so they can try it for an extended period before buying. According to Luxury Line, many customers feel that a basic dealership test drive is not enough time to spend with a vehicle to really know if it is right for them.
In addition to these sought-after luxury SUVs, Luxury Line Auto Rental has a full fleet of standard sized exotic and luxury vehicles. Anyone interested in renting any of these luxury vehicles to test, or for transportation during travel or when their car is in the shop, can call 310-274-1000, or visit the agency's website today.