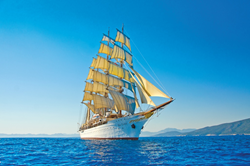 "The chance to cruise on a historic sailing ship to major sites from classical antiquity, see iconic Istanbul, and swim in the Aegean make this the trip of a lifetime.
New York, NY (PRWEB) December 15, 2014
What's the latest trend in luxury cruising? A dash of adventure. That's according to the November 2014 issue of Departures magazine, which features Arrangements Abroad's luxury cruise from Istanbul to Athens as a prime example of what the luxury travel magazine calls a "high-end adventure voyage."
The seven-night trip, titled "Sailing the Mediterranean in the Age of Odysseus" and sailing from June 27 to July 5, 2015, will visit some of the most important sites of classical antiquity. The ship, Sea Cloud, is an elegantly restored, four-masted vessel whose intimate size—just 32 cabins—allows it to easily slip into small harbors and shallow bays and even provide an opportunity for passengers to swim in the Aegean.
Built in 1931 for heiress Marjorie Merriweather Post and refurbished in 2011, Sea Cloud offers upscale appointments such as marble fireplaces and antique furnishings. With her glamorous past—she has hosted the Duke and Duchess of Windsor and Franklin D. Roosevelt, among others—and billowing white sails, Sea Cloud hearkens back to the golden years of small-ship cruising.
Arrangements Abroad, the leader in upscale scholarly travel, custom-designs all its itineraries in cooperation with distinguished curators, professors, and other experts. This particular cruise features onboard lecturer Joan Aruz, Curator of Ancient and Near Eastern Art at New York City's Metropolitan Museum of Art, and her influence is the main reason Departures describes "Sailing the Mediterranean" as a "luxe-adventure cruise." Dr. Aruz's longstanding connections with fellow scholars in the region will enable access to ongoing excavations that are normally off-limits, as well as informal talks with local experts about their fieldwork.
The two other scholars who will be lecturing aboard Sea Cloud are Steven Pinker and his wife Rebecca Newberger Goldstein, who have been dubbed "America's brainiest couple." Dr. Pinker, a professor of psychology at Harvard University and a renowned scholar of language, mind, and human nature, just published The Sense of Style: The Thinking Person's Guide to Writing in the 21st Century. Dr. Goldstein, a novelist and philosopher, is a past winner of a MacArthur "genius" award and author of Plato at the Googleplex: Why Philosophy Won't Go Away.
"I'm very excited to be returning to Greece, the birthplace of my own discipline, philosophy, especially on a cruise designed to bring out the Beauty, Truth, and Goodness that Plato believed were interwoven into the fabric of reality," Dr. Goldstein said. "The thought of sharing with others the extraordinary drama still etched in this magnificent land is a dream come true."
"I can't wait to travel on this historic sailing ship and to visit some of the major sites from classical antiquity, like Sardis and Knossos," added Dr. Pinker. "All that, together with seeing iconic Istanbul and swimming in Homer's 'wine-dark sea,' makes this the adventure of a lifetime."
For more information on this trip, please contact Abigail Graszl at Arrangements Abroad, at (212) 514-8921 or abigail(at)arrangementsabroad(dot)com
About Us
Since 1977, Academic Arrangements Abroad has been taking sophisticated travelers behind the scenes in more than 50 countries, through its exclusive network of museum curators, professors, diplomats, and other experts. Its bespoke itineraries are designed hand-in-hand with the prestigious museums, cultural organizations, and alumni associations that comprise its sponsoring institutions. From exploring India's extraordinary temples with a distinguished art historian to meeting a dancer backstage at the Bolshoi Ballet, Arrangements Abroad passengers enjoy privileged entrée to places and experiences that other tour operators cannot provide.
For more information on this release, please contact Sara Welch, Marketing & Communications, (212) 514-8921 or saraw(at)arrangementsabroad(dot)com.