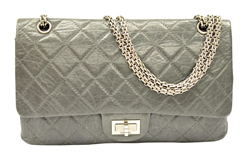 (PRWEB) October 15, 2014
As e-consignment is growing in popularity, shoppers are looking to luxury resale websites such as SnobSwap.com for pre-owned designer items, especially handbags.
According to recent insights shared by SnobSwap, Chanel is one of the most sought after designer brands that shoppers buy pre-owned. Along with Hermès, Chanel is a classic brand and several classic models have increased in value post-purchase.
Chanel continues to raise the retail price on classic handbags such as the Classic Quilted Flap Bags. The Classic Medium Flap Bag debuted in 1955 at $220. In 2009, the same style was selling for $2,695. After the last price surge in May 2014, the same bag is now priced at $4,900, about 3X the retail price when factoring in inflation. With such price surges, it is not only a bargain to buy a piece that is "like new," but also a smart investment. Sellers on SnobSwap can make upwards of $50K a year, reselling designer handbags, shoes and clothing.
SnobSwap measured and met this demand with a recent influx of Chanel merchandise. Working with its over 50 stores partners, SnobSwap editors have handpicked Chanel handbags from boutiques including C. Madeleine's, Consignment Bar, Collette Consignment and more to list on the site. The handbags have all been curated and double authenticated – by the boutique's onsite authenticator and also by SnobSwap's authentication team.
To shop pre-owned authentic Chanel handbags, visit:
https://snobswap.com/campaign/chanel_handbags_boutiques
ABOUT SNOBSWAP
SnobSwap is the premier online platform to sell, swap and shop pre-owned designer clothing, handbags, shoes and accessories. SnobSwap is the only online marketplace that hand-selects the best consignment stores and top closets to sell online. SnobSwap mobile app will launch in the fall.