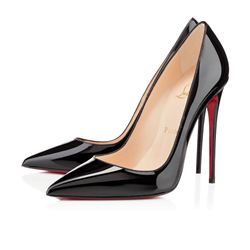 (PRWEB) November 20, 2014
Luxury resale site SnobSwap.com is becoming a top online destination to shop coveted designer pieces that are otherwise sold-out in retail stores.
Highly sought after pieces from top designer brands sell out quickly from the retailer each season. With the holiday season approaching, shoppers are looking for these pieces with no luck.
Luckily for buyers, many sold-out items can be found on SnobSwap. SnobSwap.com is an online marketplace to shop the nation's best consignment boutiques. All the merchandise on the site is curated to ensure the inventory is designer, on-trend, and authentic. Not only can shoppers can get their hands on highly coveted designer pieces that are sold out everywhere else, but they can also get them at a discount (up to 55% off), or at least fair market value.
A few pieces stand out pieces that are sold out everywhere else but available on SnobSwap include:
1. Christian Louboutin "So Kate" Pump
2. Givenchy Digital Doberman-Print Sweatshirt
3. Christian Dior Cavaliere Buckle Bootie
4. Givenchy Hellfire Star Lady Sweater
5. Prada Flame Heels
6. Louis Vuitton Punching Bag
7. Christian Louboutin Daffodile Multi-Print Platform Pump
Shop these items here.
ABOUT SNOBSWAP
SnobSwap is the premier online platform to sell and shop pre-owned designer clothing, handbags, shoes and accessories. SnobSwap is the only online marketplace that hand-selects the best consignment stores and top closets to sell online.