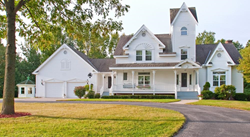 Milwaukee, WI (PRWEB) September 05, 2014
The digital age has forced the real estate sector to adapt to changing buying habits, and nowhere has this change been reflected more in recent years than in high-end real estate -- both luxury residential and unique commercial.
Since the buyer demographic for these types of properties is much, much smaller than the demographic for those looking to purchase homes priced at less than $500,000, traditional real-estate-selling techniques tend to yield fewer interested buyers as quickly as modern methods such as the online auctions and sales events utilized by Micoley.com, one of which is right around the corner. Micoley.com's September 27th sales event will be their largest event this year.
Micoley.com's hybrid marketing model allows sellers to still work with their local broker while simultaneously acquiring leads through non-traditional means. And since Micoley's marketing occurs on the web, leads are not locally limited -- they are provided on a targeted, nationwide and global level.
Buyers, on the other hand, gravitate towards auctions due to the deep discounts they receive when purchasing high-end real estate through scheduled sales events. Auctions also create a sense of urgency -- the possibility that a property will soon be sold increases demand. An auction indicates that sellers are highly motivated and are willing to negotiate on the pricing, as well.
At 2970 Mayline Road in Green Bay, WI (zip: 54311), is an example of a high-end piece of residential property up for auction on September 27, 2014 on the Micoley.com website. A gorgeous and unique custom-built Victorian estate on 51 acres of land, the house sports amazing architecture throughout the home and includes beveled and stained glass windows, etched glass doors, and historic light fixtures.
With a master suite with its own porch, a four-season room with beautiful views, fireplaces, an in-ground pool, geothermal heating & cooling, wood beams, and an open kitchen, this 3,625-square foot abode is a true luxury estate. There is even a gazebo and an additional 2,550-square foot former showroom building -- with an included loft and architectural artifacts throughout.
Most of the 51-acre property is wooded with a ravine, creek and trails -- this is truly an excellent find for those looking for something both private and affordable. The property is listed at $699,900 with an opening bid of $575,000 if no offer is received before the auction on September 27.
In the heart of Chicago, meanwhile, at 5455 N Sheridan Rd (zip: 60640) is a premium condo that has been completely remodeled and overlooks Lake Michigan and the metropolitan landscape. Featuring three bedrooms, three and a half bathrooms, hardwood floors, a one-stall garage, a doorman, a clubhouse, and a pool, this 2,650-square foot condo is listed at $625,000 with an opening bid of $575,000 if no offer is received before the auction on September 27.
Next to the Fox River in Brookfield, WI is a two-story Colonial home on 1.43 acres of land featuring five bedrooms, three bathrooms, a three-and-a-half-car attached garage, and a remodeled kitchen with birch cabinets, marble tops and oak floors. The den and family room in this 5,078-square foot home feature custom Isokern natural fireplaces with matching brick, as well.
The house's exterior sports towering fluted columns that straddle the entrance, and on all elevations the home has Old Carolina hand-made bricks, coined corners, soldiers and dentil courses with keystones set above custom Marvin signature windows. The home is listed at $774,900 with an opening bid of $675,000 if no offer is received before the auction on September 27.
Each one of these properties has motivated, high-energy sellers entertaining early bids, meaning that although all three are scheduled for auction, they may very well sell before that date arrives. Potential buyers would be well advised to begin researching as soon as possible if these properties pique their interest. Indeed, all three properties, along with the full spread of offerings -- which also include residential homes and vacant land -- can be viewed by visiting http://www.micoley.com/.
Interested parties should visit micoley.com to find photos and details about the properties, or by visiting in person and performing an inspection on site, which is highly recommended. 1-866-371-3619 is Micoley.com's information line. Additionally, Micoley.com features a live chat service through which questions can be answered.
About Micoley.com:
Green Bay, Wisconsin-based Micoley.com is a real estate marketing firm specializing in project focused auctions of bank-owned properties throughout the United States. The Micoley.com approach to real estate marketing tailors each auction plan to the client's individual needs. The site is constantly being updated for the benefit of buyers, as large-scale auction events are held monthly, and new properties are added daily. Auctioneer Firm: Micoley.com LLC #432-53. Auctioneer: Wade T. Micoley #2647-052. Broker Firm: WM Enterprises, Inc. #835181-91. Broker: Wade T. Micoley #43427-90. Full licensing can be found on the firm's website.