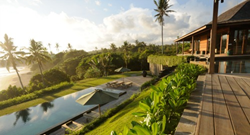 Target new luxury listings on AirBnB.
Gustavia, Saint Barthelemy (PRWEB) June 10, 2014
Luxury villas in Bali (Indonesia) and in Saint Barthélémy (a.k.a. St. Barths, in the Caribbean) grace the covers of numerous style and architecture magazines. Celebrities like Kate Moss, Beyoncé and Leonardo DiCaprio visit these islands. But you too can stay in these fabulous villas, this summer, for a reasonable price.
For a family or a group of friends, staying in a spacious vacation rental has always been a cheaper and more comfortable option than paying for 2 or 3 tiny hotel rooms. Now, luxury villas in glamorous overseas locations can also be within your reach.
Thibault Masson, owner of 4 luxury vacation villas, 2 in Bali and 2 in St. Barths, says that "St. Barths, the island of the rich and famous, is a great opportunity in the summer: the celebs are gone, it is low season. Especially in July, a lot of the villas sit empty, although the weather is great and the beaches as pretty. Time to bargain ! Meanwhile, summer is high season for Bali. But there's been a glut of villa constructions in the last years. Some villa owners are struggling to find clients. This is another bargaining opportunity for you."
Mr. Masson shares these 7 different ways to get a sweet discount :
1. Target new luxury listings on AirBnB
On AirBnB, getting reviews fast is key when listing a new property. Reviews attract bookings. Luxury villas that have just been listed are eager to be reviewed. Be that guest that is willing to give that key first review, against a discount. Just be ethical and later review the villa fairly.
2. Can you barter something with the villa owner?
Mr. Masson reveals that he "was approached by creative guests who bartered a sizable discount against the translation into Indonesian of the website of my Bali beach retreat (http://www.realbali.com/bulungdaya/ )."
3. Get steeper discounts directly from the owner:
It pays to negotiate directly with the owner. However, even on vacation rentals by owner sites like VRBO and Homeaway, you may be talking with a middleman. On Homeaway, select villas whose listings display "Email Owner" rather than "Email Manager".
4. Get more value for you for the same price:
Put yourself into the villa owners' penny loafers. They'd rather give away free perks like car rentals, massages at spas, and dinners in nearby restaurants, than lower their rental price. Ask for something that is not expensive to the owner, but which will improve your experience.
5.Call the main agencies to know about their current deals:
Villa rental agencies may be hit with last-minute cancellations. Good for you, be their saver! For a St. Barths villa, call agents like Wimco, Sibarth and St. Barth Properties. Check their websites, some list amazing last-minute deals.
6. Larger villas can be cheaper than smaller ones, if you ask nicely
Some large luxury villas may have trouble filling in and may give you a last-minute deal if you occupy just 1 or 2 bedrooms, instead of the full house. If you notice an empty such booking calendar, send a quick email to propose a deal.
7. Solo-traveler : Share a luxury villa with the owner
Again, AirBnb is your friend here. Villa owner Thibault Masson says: "Whenever I am alone in my 4-bedroom villa in St. Barths, I list 1 bedroom on AirBnB. I share all the amenities with my guests (pool, gym, etc.). Young couples are very happy to stay in a villa that they would otherwise never be able to afford."
Booking a luxury vacation rental for less is possible, event at the last minute. Ask for a deal, but always be extremely polite. You want the owner to feel happy about giving you a good deal. Do not forget to review the villa after your stay, as fairly possible, discount or not.
Contact Details
Contact Thibault Masson :
E-mail: thibault(at)fashion-fox(dot)com
Website: http://www.thibaultmasson.com
Twitter: @tibostbartsbali
Phone: +33 676 245 392
About Thibault Masson :
Mr. Masson is luxury vacation rentals owner with properties in St. Barths (Caribbean) and Bali (Indonesia). He recently launched Bulung Daya ( realbali.com/bulungdaya ), a luxury beach retreat for rent in the pristine Balinese countryside. He runs 2 online travel guides: SaintBarth.com (http://www.saintbarth.com) and RealBali.com (http://www.realbali.com). He has been listed several times as an international vacation rental expert to follow.