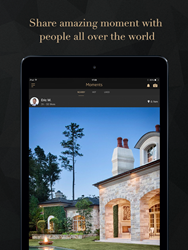 Los Angeles, California (PRWEB) April 15, 2015
Number one millionaire matchmaker app Luxy, can now be used from iPad.
Exclusively for the rich, the successful and the beautiful, this luxury millionaire dating app exclusivity targets the elite 1% of the world's population who earn over $200k.
Luxy's income verification feature makes the app unique. Users must prove that they earn over $200k before they have access to the apps services, otherwise users have to be vouched in by other members. The feature is essential because it not only proves your own value beyond a doubt, but also ensures that you can trust the authenticity of other rich singles.
Another feature that makes Luxy special is Vouch. Users who wish not to disclose their income have to be voted in by other users based on their profile and must reach over 50% by the end of the 24 hour period. This is another way that Luxy ensures the caliber of its members; only those deemed to be good looking by current Luxy users will be 'IN'.
Luxy's CEO and founder Tim, says that 'the reason why I made Luxy , is to make sure that hectic, thriving people and celebs can find one another without having all the rubbish and quests that make it extremely tough to do well on other websites and applications'.
Another way Luxy caters for the elite is through its Topics and Moments features. Here successful people can post images to show off their glamorous lifestyle or start forums for conversation or debate. Topics and Moments offers millionaire singles another way to meet others, in addition to Play.
Originally available only for iPhone and Android, users can now meet other wealthy singles from their iPad.