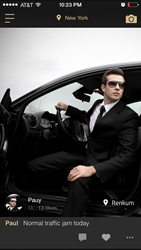 Los Angeles, California (PRWEB) November 30, 2014
LUXY, the leading dating application for millionaires and celebrities, recently announced its new feature called Moments. The company, which prides itself on creating exclusive matchmaking application for wealthy men and beautiful women, released a new feature today that allows its users to share their luxurious moments. Now, the ultra successful users can showcase what they are doing on a daily basis to their friends and other users who live nearby.
With over three hundred thousand active users, LUXY is the only matchmaking application that allows its users to connect with other successful and attractive individuals. The application allows its users to anonymously like or dislike another person in order to find a mutual "match." Match only happens when two people like each other. Due to its simplicity and effectiveness, the company is able to attract many millionaires and celebrities from Silicon Valley and Hollywood, both of whom are able to showcase what they enjoy doing on their daily basis.
LUXY has been taking dating application market by storm. With its new Moments feature, it is projected that the company will attract many new users in the upcoming few weeks. What makes LUXY unique from other dating applications is that it's strictly niche focused. Focusing only on ultra successful and attractive users, LUXY is able to provide its users with what other competitor in the market is unable to do. It is not surprising that LUXY has been referred to as a millionaire dating app "without poor people".
To learn more about the LUXY application and the new feature, contact them by email at hello(at)onluxy(dot)com, or visit their website at http://www.onluxy.com.
About
LUXY is a leading millionaire dating application that connects its users with other successful and attractive people. The company prides itself in providing matchmaking opportunities for wealthy men and beautiful women.