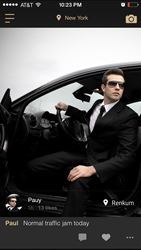 Silicon Valley, California (PRWEB) January 20, 2015
LUXY, the dating site dubbed "Tinder Minus the Poor People," has been featured on Jimmy Kimmel, The New York Times, FOX News, CNBC and other media around the world.
The elite dating site for rich people only, went live across the globe just a few months ago. Over the past two weeks, the site has removed more than 4,500 poor people from 190 countries. From the total number of hopefuls, 50,000 new members have been admitted.
The LUXY App now has a global membership which exceeds 50,000. Since the app launched, it has sparked controversy and debate.
Tim, CEO of the LUXY App, said: "Despite considerable backlash against us, the numbers don't lie — we are catering to a upscale and engaged audience."
ABOUT LUXY APP: 'TINDER MINUS THE POOR PEOPLE'
"It works just like Tinder," said the CEO of LUXY. "With one big exception: Our app is for wealthy people only. It's basically Tinder minus the poor people."
It was really just a matter of time. With Tinder, Grindr and others carving out a niche for themselves in the world of high-speed digital dating, LUXY has launched to work in the same way.
It's Tinder without low-income dating prospects. In fact, the average income of male users on LUXY is over $200k.
Like Tinder, based on the results of potential candidates, the app allows the user to anonymously like or pass them by swiping or tapping. If two users like each other then it results in a "match" and LUXY introduces the two users and opens a chat.
Who doesn't want to date somebody both attractive and wealthy? Privately, we all know we prefer to have both of these things. One user said: "Tinder was pretty awesome when it came out, but there's a lot of riff raff on there. I would rather know the guy who has a couple bucks in his pocket."
"With the rise of high-speed digital dating, it's about time somebody introduced a filter to weed out low-income prospects by neighborhood," said the CEO of LUXY.
Another user wrote: "Does this mean that we're all going to flock to Beverly Hills on a Friday night to make a match? Mabye, that's not a bad idea!"
About LUXY
LUXY is the #1 luxury dating app which has been bringing together successful singles. There are many successful persons on the site, including CEOs, professional athletes, doctors, lawyers, investors, entrepreneurs, beauty queens, fitness models and Hollywood celebrities.