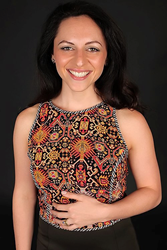 Like Hilfiger, Khanna understands that the time to collaborate fully with competent medical professionals is now...
New York, New York (PRWEB) April 12, 2016
Manhattan based psychotherapist, Ruschelle Khanna, LCSW, incorporates the same model for identifying Lyme disease as Ally Hilfger, Tommy Hilfiger's daughter, by collaborating with multiple health and mental health providers to get a clear picture of mental illness.
She combines traditional psychotherapy with functional medicine to assist clients in accessing the right health services as quickly as possible. Like Hilfiger, Khanna understands that the time to collaborate with competent medical professionals is now. "We can no longer separate mental health services from conventional medical care. With new research every day related to systemic infections, sleep and impact of gut health on our mental wellbeing cannot be ignored. We can no longer accept one dimensional healthcare providers; it just doesn't work."
Her new practice, located in Midtown Manhattan combines years of psychotherapy experience with extensive research around the root causes of illness. Khanna provides in-person and phone/Skype consultations to assist in setting up a competent healthcare plan including the development of a personalized team.
Ms. Khanna references an October 13, 2015 Daily Mail article regarding Ally Hilfiger's healing from Lyme, "Unconvinced, she eventually saw a psychologist who was familiar with Lyme disease. She recognized the symptoms straight away and referred the fashion heiress to another doctor, who eventually confirmed the illness."
Ms. Khanna experienced countless physicians that minimized her experience. Believing she had a mental health issue, she first went to a psychologist who told her she was having a psychiatric break and that there was nothing she could do. Ms. Khanna, not as fortunate as Hilfiger, had to find answers, elsewhere. Ms. Khanna eventually found proper diagnosis in Modern Chinese Medicine and began to turn her health around.
Today, Ms. Khanna, fully recovered, practices psychotherapy specializing in assisting men and women in uncovering the roots of their psychiatric distress. "Sometimes psychotherapy is all that's required." Khanna states. "But other times we need a team of physicians and immune specialists to assist us in uncovering ongoing severe mental health issues. It is important to have a clinician that is knowledgeable and connected to competent physicians."
According to the CDC, Lyme disease is the fastest growing infectious disease in the United States. That said, there is still a tremendous amount unknown about this and other systemic infections. The need for research and accurate diagnosis is more important now than ever.
Access to quality mental health services are not just reserved for celebrities. Ruschelle Khanna consults, speaks, writes and teaches throughout the country about the health crisis taking place in US and abroad. You can learn more about her and her practice at ruschelle.com.