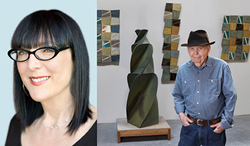 Lynda Weinman's dedication to lifelong learning and the creative fields has driven distance education worldwide, and John Mason's revolutionary work has had a profound influence on contemporary art.
Los Angeles, Ca (PRWEB) May 06, 2015
Otis College of Art and Design will award honorary doctorates to Lynda Weinman, co-founder of the pioneering distance education company lynda.com, and renowned ceramics sculptor and Otis alumnus John Mason ('57) at the 2015 Commencement ceremony May 10, 2015.
Each year Otis College of Art and Design awards honorary doctorates to one or two individuals who have substantial experience and merit that places them at the pinnacle of their field while reflecting the College's aspirations and values. Both Weinman and Mason are exceptional role models for the students graduating this May.
Weinman, who will be serving as commencement speaker, is a self-taught computer expert, a web graphics and design veteran, and author of dozens of best-selling books. She is best known as the co-founder and executive chair of lynda.com, one of the most successful companies in online education today, providing a comprehensive library of instructional videos on technology, design, and business. lynda.com was recently acquired by social media giant LinkedIn for $1.5 billion. Before launching lynda.com, Weinman was a faculty member at Art Center College of Design in Pasadena, California, and worked as an animator and motion graphics director in the special effects film industry.
Mason is one of the essential Los Angeles-based artists of the postwar period. Widely recognized for his revolutionary use of clay, his work exemplifies a host of major themes found throughout contemporary sculpture, regardless of medium. Alongside peers like Peter Voulkos and Ken Price, Mason is associated with the distinctive ethos to emerge from Otis in the 1950s. Shortly thereafter, he showed at the legendary Ferus Gallery and was part of a diverse group of artists that helped garner attention for Los Angeles as a burgeoning center for contemporary art. Major works made by Mason around this time, like his "Blue Wall" (recently featured in Pacific Standard Time: Crosscurrents in L.A. Painting and Sculpture at the Getty Center) and free-standing "spear" and "X" forms, would define a new expressive potential and monumentality for ceramic-based art.
"We are thrilled to be honoring such leading lights in education, art, and design. Lynda Weinman's dedication to lifelong learning and the creative fields has driven distance education worldwide, and John Mason's revolutionary work has had a profound influence on contemporary art. These individuals represent the apex of accomplishment in their fields, and Otis is privileged to honor them for their groundbreaking achievements."
Elizabeth Savage, a senior in the Architecture/Landscape/Interiors (A/L/I) Program, is the valedictorian for the Class of 2015 and will give the valedictory address. Originally from Santa Barbara, California, Elizabeth has won three awards for excellence during her time at Otis. In 2014, she received a prestigious Angelo Donghia Foundation Senior Scholarship, one of only twelve recipients in the nation.
COMMENCEMENT DETAILS
Sunday, May 10, 2015, 3PM
Westchester Park (across from the main campus)
7000 W. Manchester Ave., Los Angeles, CA 90045
ABOUT OTIS COLLEGE OF ART AND DESIGN
Established in 1918, Otis College of Art and Design is a national leader in art and design education. The College mission is to prepare diverse students of art and design to enrich our world through their creativity, skill, and vision. Alumni and faculty are Fulbright, MacArthur, and Guggenheim grant recipients, Oscar awardees, legendary costume designers, leaders of contemporary art movements, and design stars at Apple, Abercrombie & Fitch, Pixar, DreamWorks, Mattel, Nike, and Disney.
Otis enrolls approximately 1,150 full-time students, and offers Bachelor of Fine Arts degrees in Architecture/Landscape/Interiors, Digital Media (Animation, Game & Entertainment Design, and Motion Design), Fashion Design (Costume Design), Communication Arts (Advertising Design, Graphic Design, and Illustration), Fine Arts (Painting, Photography, and Sculpture/New Genres), Product Design, and Toy Design. Otis also awards the Master of Fine Arts degree in Fine Arts, Graphic Design, Public Practice, and Writing. Nearly 3,000 adults and children participate annually in Continuing Education art and design classes and workshops.
The five-acre main campus is located on L.A.'s Westside near the beach and LAX, the Fashion Design program is in the heart of the downtown Fashion District, and graduate studios are on the Creative Corridor in nearby Culver City and in the 18th Street Arts Center in Santa Monica.
Additional information is available at http://www.otis.edu.