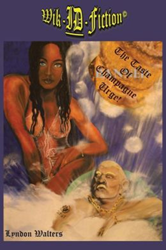 Readers should question whose 'values and beliefs' they are living and which 'models' fit which 'roles.'
LONDON (PRWEB) September 15, 2014
The highly controversial, literary docudrama, "The Taste of Champagne Urge" "Wik-ID-Fiction" (published by AuthorHouse UK), by Lyndon Walters explores the debate: what makes up relationships.
Taking place on Asteroidia, a virtual planet, "The Taste of Champagne Urge" "Wik-ID-Fiction" describes a naïve Sandra Bogus and the hard hitting Duke Stagg – polar opposites, yet they each have something the other wants. As Sandra and Duke strive for their own versions of "success," it becomes apparent that they are both prime examples of stereotypes. Duke longs to have an extremely attractive "exotic bird" on his arm to boost his self esteem and Sandra is seeking to become a celebrity 'A-Blister', per her mother's wishes.
An excerpt from "The Taste of Champagne Urge" "Wik-ID-Fiction":
"Sandra's tremendously long legs were accentuated by the scarcity of clothing. She wore dark blue sandals trimmed with a flash of sky blue. Earrings, eye shadow, lipstick, talon-like painted nails matched the shiny taffeta top and the 'pum-pum' shorts. Sandra wore an extra large sky blue plastic empty spectacle frame to draw attention to her large cornflower blue eyes. Her shiny taffeta skimpy top and 'pum-pum' shorts glowed in the darkened Auditorium. The audience cheered wildly."
"I want to challenge individuals to examine how the power of 'programming' and 'conditioning' impacts individuals," Walters writes. "Readers should question whose 'values and beliefs' they are living and which 'models' fit which 'roles.'"
"The Taste of Champagne Urge" "Wik-ID-Fiction" will be on display at the Frankfurt Book Fair which will take place October 8-12, 2014.
"The Taste of Champagne Urge" "Wik-ID-Fiction"
By Lyndon Walters
Softcover | 6 x 9 in | 576 pages | ISBN 9781491882979
E-Book | 576 pages | ISBN 9781491882993
Available at Amazon and Barnes & Noble
About the Author
Since he was four years old, Lyndon Walters remembers his father describing him as a "word artist." As he grew and progressed, Walters wrote mini-plays, sang, danced, acted and recited monologues depicting various characters including birds, animals and humans. Walters' use of language represents the choice of intensity of his "literary brushstrokes," but renders the audiences' minds as his canvas. His present occupation is as an 'I'-Coach. It is his brainchild and a novel approach to coaching. Walters' specialty is personal development, personal performance and all categories of relationships.
AuthorHouse UK Ltd., an Author Solutions, LLC self-publishing imprint, is a leading provider of self-publishing, marketing, and bookselling services dedicated to serving authors throughout the United Kingdom. AuthorHouse UK is committed to providing authors the best self-publishing experience through a wide array of products and services designed to help individual authors realise their unique creative vision. AuthorHouse UK assigns each author a personal publishing, marketing, and book consultant to provide professional guidance throughout the self-publishing process. To date, AuthorHouse UK has released more than 6,500 titles. For more information or to begin publishing a book today, visit authorhouse.co.uk or call 0800 1974150 or follow @AuthorHouseUK on Twitter for our latest news and updates