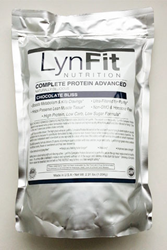 Getting lean is about eating right and staying active.
(PRWEB) January 08, 2015
Lisa Lynn, creator of LynFit, is known as an expert in helping others live healthy and fit lives. She creates the tools needed to lose weight and helps others build healthier lifestyle habits. Lynn, who is regularly featured on the "Dr. Oz Show," has developed a new version of her famous protein shake that is specifically designed to boost metabolism. This non-GMO shake is made from the highest quality whey and is designed to fuel the body so effectively that users can lose up to a pound a day by drinking a shake in the morning for breakfast.
The new version of the LynFit shake is lower in carbs, calories, and sugar than its predecessors and is the fittest, cleanest shake on the market. Even those who are not interested in weight loss can benefit from this formula. By drinking a shake a day, users can boost their immune systems and promote better healing and overall good health.
This shake is non-GMO and hormone-free and comes in a new, eco-friendly silver pouch, making it a wholesome choice for the environment as well as the body. Sweetened with Stevia, it comes in two natural, delicious flavors: Chocolate Bliss and Vanilla Dream. It contains 25 grams of protein per serving, with 30 servings per pouch. Satisfying protein keeps users feeling full longer and helps to boost the metabolism. It also dispels cravings for foods high in fat and sugar, so it is much easier to stay on track with fitness goals. Those who drink a shake for both breakfast and lunch kick-start their metabolism to lose weight faster than ever before.
To learn more about the new Non-GMO Complete Protein Advanced Shake - http://lynfit.com/collections/all/products/complete-protein-advanced-shake-non-gmo
Lynn's book, The Metabolism Solution, recently re-launched by Next Century Publishing, offers expert advice on how to nourish the body while losing weight ; this successful work includes many recipes incorporating the Non-GMO Complete Protein Advanced Shake. Lynn says, "Getting lean is about eating right and staying active." Having spent over a decade as Martha Stewart's personal trainer, Lynn has gained the respect of many in the nutrition world as an expert in the field of metabolism and healthy living.
About Lisa Lynn:
Lisa Lynn is considered an expert in the field of fitness and nutrition and has earned four educational certificates from the International Sports and Sciences Association's Professional Division: Certified Fitness Trainer, Specialist in Performance Nutrition, Fitness Therapy and Elite Trainer. Major media outlets frequently call upon her for her expertise, and she maintains a diverse portfolio of clientele including professional bodybuilders, models, actors, CEOs and real-world people throughout the country. Lisa is a regular guest as nutrition and fitness expert on The Martha Stewart Show, the Dr. Oz Show, FOX News, News 8 Connecticut and Sirius Radio, and has written about fitness and nutrition for many notable publications. She is inspired to help people achieve optimal health with lifestyle solutions that are effective in the real world. Lisa lives in the greater NYC area.