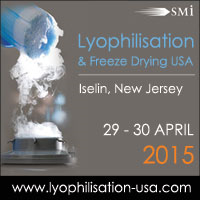 "I am grateful to the many lyophilization experts that share their knowledge through seminars, webinar's, white papers, and case studies" Patheon Pharmaceuticals
London, UK (PRWEB UK) 24 March 2015
Set to take place on 29th & 30th April this spring in Iselin, New Jersey, the Lyophilisation & Freeze Drying USA conference will strengthen knowledge of key issues in freeze drying as well as look at lyophilisation as a whole to optimise process efficiency. Understanding the application of quality by design and the implementation of PAT will be a major focus, as will hearing about technological advancements and strategy from a selection of leading pharmaceutical organisations and industry KOLS.
Highlights at the event include an opening keynote address from Patheon Pharmaceuticals Lyophilisation Development Scientist, Ronald Pate. Dr Pate, who has been involved with lyophilisation and freeze drying since 2000 said:
"I believe control of the only part of lyophilisation that is not currently controlled – "The Freeze Phase", will become routine through use of controlled nucleation...I also believe we will continue to see improvement in our ability to collect real time process data during lyophilisation. We should see continued improvement in technology that provides accurate real time measurement of sublimation rates (water vapour flow), NIR measurement for the level of dryness, and wireless temperature product measurements."
When asked what attendees will take away from his talk, Ronald Pate commented:
"They should come away understanding the basic steps needed to develop a lyophilization cycle. They will understand how to develop a design space to optimized and assure a robust lyo-cycle that provides good lyophile quality during scale-up to commercial size lyophilizers."
T.N Thompson, founder & president from Millrock Technologies, will be presenting on Freeze drying PAT using Heat Flux Measurement. The talk will review the latest in process analytical technology that works in both freeze drying and primary drying. He will also examine how different freeze drying profiles effect primary drying times and how controlled nucleation may or may not have an impact on shortening primary drying.
Millrock Technology is focused on improving the process of freeze drying through product enhancements and innovations in measurement and control. Latest developments include, FreezeBooster® Controlled Nucleation technology, LyoPAT® process analysis and control, and the MicroFD™ a 6" freeze dryer with temperature controlled walls.
"Our goal is to provide the tools to analyse and optimize the freeze drying process. The Millrock team brings experience from over 50 years of building freeze drying equipment and solving application needs"
"Most PAT technologies only work for a portion of the process or measure parameters which are not key process parameters, which limits their usefulness. For example, monitoring temperature does not provide critical information during the freezing or sublimation process or estimating product temperature during primary drying based on pressure changes. One key process parameter that can be used in every phase of the freeze drying process is heat flow. Heat flow can be used to analyse freezing, primary drying and secondary drying and provides key process information for optimizing cycles, transferring protocols between equipment, and provides true in-process PAT for ensuring product quality."
Geoff Smith, Reader Pharmaceutical Technologies, School of Pharmacy, De Montfort University, will be speaking on PAT in the freeze drying of parenteral products. His talk will review the use of PAT for process development and manufacturing controls, the application of process analytical technologies across various scales and new impedance based technologies for molecular to macroscopic scale measurements. On his work, Geoff said:
"I have developed a number of lines of research based around broad band dielectric measurements. In recent years these studies are focussed increasingly on PAT applications in process development and manufacturing controls for the pharmaceutical industry. My research group is now working on pharmaceutical applications for impedance, dielectric and terahertz spectroscopy alongside optical techniques such as laser speckle and optical flow. These techniques cover an extremely wide range of frequencies thereby enabling the direct analysis of material properties over a wide range of scales from the macroscopic to the molecular. ..More recently, my research focus has extended to investigations into the use of electrostatic noise measurements and optical imaging for applications in roller compaction, powder flow and tablet defect analysis, with the aim of improving understanding and control of tablet production methods."
The full interviews can be accessed from the event download centre.
Click here to see the full speaker line-up for 2015
Lyophilisation & Freeze Drying USA is sponsored by Ellab Inc, iQ Mobil, Millrock Technology, One 2 One Hospira and SP Scientific
For more information or to register visit http://www.lyophilisation-usa.com
Lyophilisation & Freeze Drying USA
29th – 30th April 2015
Renaissance Woodbridge Hotel, Iselin, New Jersey, USA.
http://www.lyophilisation-usa.com
-------------------------- END --------------------------
About SMi Group:
Established since 1993, the SMi Group is a global event-production company that specializes in Business-to-Business Conferences, Workshops, Masterclasses and online Communities. We create and deliver events in the Defence, Security, Energy, Utilities, Finance and Pharmaceutical industries. We pride ourselves on having access to the world's most forward thinking opinion leaders and visionaries, allowing us to bring our communities together to Learn, Engage, Share and Network. More information can be found at http://www.smi-online.co.uk