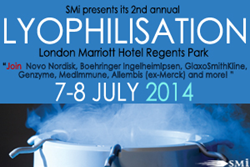 With increasing numbers of proteins being discovered, the importance of lyophilisation is coming to the fore...
London, United Kingdom (PRWEB UK) 22 March 2014
The global lyophilisation for pharmaceuticals products and services market is predicted to reach $3.09bn in 2014 with revenues showing strong growth to 2024. With increasing numbers of proteins being discovered, the importance of lyophilisation is coming to the fore, for example, as a means of extending the shelf life of pharmaceutical and biopharmaceutical products. (Source: Visiongain, The Global Lyophilisation for Pharmaceuticals products and services Market will reach $3.09BN in 2014 according to new visiongain report, 2014)
SMi invites you to attend the 2nd annual Lyophilisation conference on 7-8 July 2014, London. This event will provide an update on methodologies for lyophilisation and examine how to mitigate risks in production. Join our Lyophilisation forum and gain insight into current successes and challenges faced by pharmaceuticals and biopharmaceuticals during their freeze drying life cycle.
Key Speakers at the event:

Sune Andersen, Principal Scientist, Novo Nordisk
Patrick Garidel, Associate Director, Protein Science, Boehringer Ingelheim
Julie Pagenaud, Sterile Product Manufacturing Manager, Ipsen
Massimo Rastelli, Project Leader BioPharm, GlaxoSmithKline
Andrea Weiland, CEO, Explicat Pharma
Mark Yang, Director of Fill Finish Development, Genzyme
Bertie Daly, Associate Director, Alexion Pharmaceuticals
Jamie Biddlecombe, Scientist II, Formulation Sciences, MedImmune
Jason Gray, Consultant, Allembis (ex-Merck)
Professor Dr Thomas de Beer, Laboratory of Process Analytical Technology, Ghent University
Dr Rongjun Chen, Lecturer in Chemical Engineering, Imperial College London
Key Topic Insights

First hand case studies from leading experts in lyophilisation
Evaluate practical guidance from both industry and academics
Analyse ways to ensure good product quality at the end of the cycle
Discover the fastest way to delivery within a lyophilisation cycle
How to optimise cycles of products on the market
This years' event will also include a Half-Day Post-Conference Workshop on:
Getting the Most Out of your Physical Characterisation Analysis
Workshop Leader: Jason Gray, Director, Allembis
---END---
For more information and full programme details please visit: http://www.smi-online.co.uk/2014lyophilisation61.asp
Lyophilisation 2014: Pharmaceutical & Biopharmaceutical
7-8 JULY 2014
Marriott Regents Park Hotel, London UK
http://www.lyophilisation-conference.com
About SMi Group
Established since 1993, the SMi Group is a global event-production company that specializes in Business-to-Business Conferences, Workshops, Masterclasses and online Communities. We create and deliver events in the Defence, Security, Energy, Utilities, Finance and Pharmaceutical industries.
We pride ourselves on having access to the world's most forward thinking opinion leaders and visionaries, allowing us to bring our communities together to Learn, Engage, Share and Network. We hold events in over 30 major cities throughout the world including London, Paris and Singapore and to date have welcomed over 200,000 participants from 80 countries.