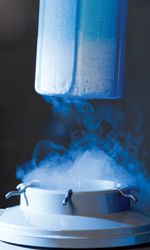 ... proteins, vaccines to other injectables must remain effective from manufacture to patient administration.
London, Southwark (PRWEB UK) 29 March 2014
With the ever increasing cost of pharmaceutical products, the importance of research into the formulation and stability of drugs has never been higher. The global lyophilisation market is predicted to reach $3.09bn in 2014 with revenues showing strong growth to 2024. World renowned companies from all over the globe use research to optimise the synthesis and storage of their products through the process of lyophilisation. Biological products ranging from proteins, vaccines to other injectables must remain effective from manufacture to patient administration.
(Source: Azom.com, Robert Gordon University Researchers Use Linkam Temperature-Controlled Microscopy Stages in Pharmaceutical Process Studies, 2014)
SMi invites you to attend the 2nd annual Lyophilisation conference on 7-8 July 2014, London. This event will provide an update on best practices in lyophilisation and examine the latest techniques and industry case studies. With a workshop and sessions led by experts, you will gain an array of tools and tips to deliver the best outcome for your organisation.
Key Speakers At The Event:

Andrea Weiland, CEO, Explicat Pharma
Massimo Rastelli, Project Leader BioPharm, GlaxoSmithKline
Jason Gray, Consultant, Allembis (ex-Merck)
Julie Pagenaud, Sterile Product Manufacturing Manager, Ipsen
Sune Andersen, Principal Scientist, Novo Nordisk
Patrick Garidel, Associate Director, Protein Science, Boehringer Ingelheim
Mark Yang, Director of Fill Finish Development, Genzyme
Bertie Daly, Associate Director, Alexion Pharmaceuticals
Jamie Biddlecombe, Scientist II, Formulation Sciences, MedImmune
Professor Dr Thomas de Beer, Laboratory of Process Analytical Technology, Ghent University
Dr Rongjun Chen, Lecturer in Chemical Engineering, Imperial College London
Key Event Highlights:

Using vibrational spectroscopic measurements during pharmaceutical freeze drying
Key presentation from Novo Nordisk on PAT implementation in pharmaceutical spray drying
Discuss using Lyophilisation kinetics using freeze drying microscopy
Hear more about mathematical modelling in freeze drying
Case study from GSK on their 3-stage validation approach for lyophilised products
Evaluate lyophilisation optimisation and validation featuring Ipsen and Alexion Pharmaceuticals
---END---
For more information and full programme details, please visit: http://www.smi-online.co.uk/2014lyophilisation61.asp.
Lyophilisation 2014: Pharmaceutical & Biopharmaceutical
7-8 July, 2014
Marriott Regents Park Hotel, London, UK
http://www.lyophilisation-conference.com
About SMi Group
Established since 1993, the SMi Group is a global event-production company that specializes in Business-to-Business Conferences, Workshops, Masterclasses and online Communities. We create and deliver events in the Defence, Security, Energy, Utilities, Finance and Pharmaceutical industries.
We pride ourselves on having access to the world's most forward thinking opinion leaders and visionaries, allowing us to bring our communities together to Learn, Engage, Share and Network. We hold events in over 30 major cities throughout the world including London, Paris and Singapore and to date have welcomed over 200,000 participants from 80 countries.