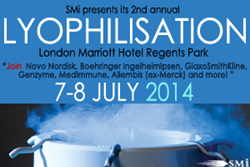 Taking advantage of the opportunities in this fast-moving market will require companies to take a bold approach.
London, Southwark (PRWEB UK) 5 April 2014
Advances in lyophilisation technologies will extend the range of equipments for new possible therapeutic applications and provide solutions to the problem of product stability and concerns related to high costs of extended process timings. Taking advantage of the opportunities in this fast-moving market will require companies to take a bold approach and navigate challenges within current technologies for lyophilisation, stringent regulations, high costs and product formulation.
(Source: VisionGain, The Global Lyophilisation for Pharmaceuticals products and services Market will reach $3.09BN in 2014 according to new visiongain report, 2014)
GlaxoSmithKline will be speaking at this years' Lyophilisation conference to provide a case study and present the latest advances in the pharmaceutical and biopharmaceutical freeze-drying field.
Highlights from the presentation entitled: 3-stage validation approach for Lyophilized products, will include:

Technology Transfer: Evaluation of an existing commercial product
Development: Establishing a new lyophilised product
Advancement: Discussion of the latest methods in the freeze-drying field
Lyophilisation 2014 will provide a mix of case study led presentations, panel debates and keynote addresses that have been tailored to an audience of professionals involved in PAT implementation, mathematical modelling, design and scale-up, to optimising and validating freeze drying life cycles. The above is just a snap shot of what will be covered at the event. To download a brochure visit http://www.lyophilisation-conference.com.
Some of the confirmed attendees so far include: Boehringer Ingelheim, Allembis, Explicat Pharma, MedImmune, Novo Nordisk, GlaxoSmithKline, Genzyme, Alexion Pharmaceuticals, Ellab, Ipsen, Ghent University, GEA Pharma Systems, GEA Process Engineering, Bavarian Nordic, Imperial College London plus many more.
For more information and full programme details, please visit:
Lyophilisation 2014: Pharmaceuticals & Biopharmaceuticals
7-8 July, 2014
Marriott Regents Park Hotel, London, UK
http://www.lyophilisation-conference.com
About SMi Group
Established since 1993, the SMi Group is a global event-production company that specializes in Business-to-Business Conferences, Workshops, Masterclasses and online Communities. We create and deliver events in the Defence, Security, Energy, Utilities, Finance and Pharmaceutical industries.
We pride ourselves on having access to the world's most forward thinking opinion leaders and visionaries, allowing us to bring our communities together to Learn, Engage, Share and Network. We hold events in over 30 major cities throughout the world including London, Paris and Singapore and to date have welcomed over 200,000 participants from 80 countries.
More information can be found at http://www.smi-online.co.uk.