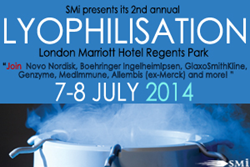 ...increasing popularity of biotechnologically manufactured drugs has created a challenge for the pharmaceutical companies that produce them.
London, Southwark (PRWEB UK) 26 April 2014
The increasing popularity of biotechnologically manufactured drugs has created a challenge for the pharmaceutical companies that produce them. Such drugs are more often far more 'delicate' than more conventional compounds. Lyophilisation, a process of 'preservation' that actually dates back thousands of years, is one of the more effective ways of giving these new drugs greater stability and a longer shelf-life, while still maintaining their effectiveness. For drug manufacturers, the challenge may at first appear daunting, but it is one that must be met if the compounds being developed are to be successful.
(Source: International Pharmaceutical Industry (IPI), Developing a Lyophilised Portfolio, 2014)
SMi's 2nd annual Lyophilisation conference on 7-8 July 2014, London, will provide an update on advances within lyophilisation. We will examine the latest techniques and industry case studies to manage your lyophilisation cycle effectively. With a workshop and sessions led by experts, you will gain an array of tools and tips to deliver the best outcome for your organisation.
Key Presentations Include:

The Essentials in freeze-drying
Patrick Garidel, Associate Director, Protein Science, Boehringer Ingelheim
Lyocycle Development: The journey from labscale to production scale (case study)
Dr Andrea Weiland, Managing Director, Heading CMC Development and Project Management, Explicat Pharma GmbH
Advancements in Lyophilised Drug Product Development and Scale-up
Jamie Biddlecombe, Scientist II, Formulation Sciences, MedImmune
Experience with PAT implementation in pharmaceutical spray drying
Dr Sune Klint Andersen, Principal Scientist, Novo Nordisk
3-Stage validation approach for Lyophilized products
Massimo Rastelli, Project Leader Biopharm, GlaxoSmithKline
Fill finish Lyophilisation
Mr Bertie Daly, Associate Director, Sterile Fill finish, Alexion Pharmaceuticals
How to handle all freeze drying manufacturing equipment
Julie Pagenaud, Sterile Product Manufacturing Manager, Ipsen
To download a brochure, please visit http://www.lyophilisation-conference.com.
Key Topic Breakdown

Validation of freeze dryers
Implementation of Process Analytical Technologies (PAT)
Ensuring product quality for business
Some of the confirmed attendees so far include: Boehringer Ingelheim, Allembis, Explicat Pharma, MedImmune, Novo Nordisk, GlaxoSmithKline, Norgine, Alexion Pharmaceuticals, Ellab, Ipsen, Ghent University, GEA Pharma Systems, GEA Process Engineering, Bavarian Nordic, Imperial College London, Newcastle University, plus many more.
For those that are interested there is currently a £100 early bird discount available online.
Lyophilisation 2014: Pharmaceuticals & Biopharmaceuticals
7-8 July, 2014
Marriott Regents Park Hotel, London, UK
http://www.lyophilisation-conference.com
About SMi Group
Established since 1993, the SMi Group is a global event-production company that specializes in Business-to-Business Conferences, Workshops, Masterclasses and online Communities. We create and deliver events in the Defence, Security, Energy, Utilities, Finance and Pharmaceutical industries.
We pride ourselves on having access to the world's most forward thinking opinion leaders and visionaries, allowing us to bring our communities together to Learn, Engage, Share and Network. We hold events in over 30 major cities throughout the world including London, Paris and Singapore and to date have welcomed over 200,000 participants from 80 countries.
More information can be found at http://www.smi-online.co.uk.