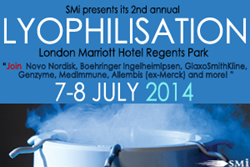 Freezing is the most critical step when developing a lyophilisation cycle for protein formulations.
London, Southwark (PRWEB UK) 10 May 2014
Freezing is the most critical step when developing a lyophilisation cycle for protein formulations. The product must be frozen at a temperature that is low enough to be completely solidified. The solute can crystallize or remain substantially amorphous with freezing; understanding the physical form of the solute (i.e., whether crystalline or amorphous) after freezing is important from the standpoint of drying characteristics, appearance of the final product, and product stability during storage. (Source: Pharmtech.com, Freeze Drying Protein Formulations, 2014)
Join SMi's 2nd annual Lyophilisation conference on 7-8 July 2014, London. This event will provide an update on advances within lyophilisation. We will examine the latest techniques and industry case studies to manage your freeze drying cycle effectively. With a workshop and sessions led by experts, you will gain an array of tools and tips to deliver the best outcome for your organisation.
Key Speakers Include:

Andrea Weiland, CEO, Explicat Pharma
Massimo Rastelli, Project Leader BioPharm, GlaxoSmithKline
Jason Gray, Consultant, Allembis (ex-Merck)
Julie Pagenaud, Sterile Product Manufacturing Manager, Ipsen
Sune Andersen, Principal Scientist, Novo Nordisk
Patrick Garidel, Associate Director, Protein Science, Boehringer Ingelheim
Bertie Daly, Associate Director, Alexion Pharmaceuticals
Jamie Biddlecombe, Scientist II, Formulation Sciences, MedImmune
Professor Dr Thomas de Beer, Laboratory of Process Analytical Technology, Ghent University
Dr Rongjun Chen, Lecturer in Chemical Engineering, Imperial College London
Key Topic Insights:

Using vibrational spectroscopic measurements during pharmaceutical freeze-drying
Key presentation from MedImmune on advancements in Lyophilised Drug Product Development and Scale-Up
Discuss using Lyophilisation kinetics using freeze drying microscopy
Hear more about mathematical modelling in freeze drying
Case study from GSK on their 3-stage validation approach for lyophilised products
Evaluate lyophilisation optimisation and validation featuring Ipsen and Alexion Pharmaceuticals
Some of the confirmed attendees so far include: Boehringer Ingelheim, Allembis, Explicat Pharma, MedImmune, Novo Nordisk, GlaxoSmithKline, Alexion Pharmaceuticals, Ellab, Ipsen, Ghent University, GEA Pharma Systems, GEA Process Engineering, Bavarian Nordic, Imperial College London, LFB Biotechnologies, Chr. Hansen, University of Sao Paulo plus many more.
For more information and full programme details, please visit:
Lyophilisation 2014: Pharmaceuticals & Biopharmaceuticals
7-8 July, 2014
Marriott Regents Park Hotel, London, UK
http://www.lyophilisation-conference.com
About SMi Group
Established since 1993, the SMi Group is a global event-production company that specializes in Business-to-Business Conferences, Workshops, Masterclasses and online Communities. We create and deliver events in the Defence, Security, Energy, Utilities, Finance and Pharmaceutical industries.
We pride ourselves on having access to the world's most forward thinking opinion leaders and visionaries, allowing us to bring our communities together to Learn, Engage, Share and Network. We hold events in over 30 major cities throughout the world including London, Paris and Singapore and to date have welcomed over 200,000 participants from 80 countries.
More information can be found at http://www.smi-online.co.uk.