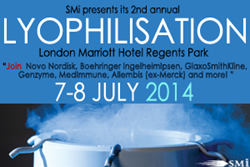 Freeze-drying is one of the most popular routes for stability enhancement of pharmaceutical products.
London, Southwark (PRWEB UK) 17 May 2014
Industry experts gather at SMi's second annual Lyophilisation conference taking place on 7-8 July 2014, London, to discuss advances within lyophilisation. Freeze-drying is one of the most popular routes for stability enhancement of pharmaceutical products. This event will examine the latest techniques and industry case studies to manage your lyophilisation cycle effectively. With a workshop and sessions led by experts, you will gain an array of tools and tips to deliver the best outcome for your organisation.
In five sessions, the conference will include presentations on the following topics:
1. Overview of Freeze-Drying

The essentials in freeze-drying
The importance of physical properties analysis when developing a lyophilised formulation
The real time wireless validation of lyophilisation processes
2. Using PAT and Robustness

Lyocycle development
Advancements in lyophilised drug product development and scale-up
Real-time evaluation of protection ability of stabilizers for protein formulations
Porous and nanofibrous polymeric structures
Experience with PAT implementation in pharmaceutical spray drying
3. Overcoming Challenges in Lyophilisation

Mathematical modelling, design and scale-up
Studying lyophilisation kinetics
4. Advances in Lyophilisation Field

3-stage validation approach
Fogging in glass vials and new container systems
5. Optimisation and Validation

Fill finish
Cryopreservation of mammalian cells
How to handle manufacturing equipment
Imaging analysis as a support tool
Some of the confirmed attendees so far include: Boehringer Ingelheim, Allembis, Norgine, Explicat Pharma, MedImmune, Novo Nordisk, GlaxoSmithKline, Ellab, Ipsen, Ghent University, GEA Pharma Systems, GEA Process Engineering, Bavarian Nordic, Imperial College London, Chr. Hansen, LFB Technologies, University of Sao Paulo, plus many more
---END---
Lyophilisation 2014: Pharmaceuticals & Biopharmaceuticals
7-8 July, 2014
Marriott Regents Park Hotel, London, UK
http://www.lyophilisation-conference.com
About SMi Group
Established since 1993, the SMi Group is a global event-production company that specializes in Business-to-Business Conferences, Workshops, Masterclasses and online Communities. We create and deliver events in the Defence, Security, Energy, Utilities, Finance, and Pharmaceutical industries.
We pride ourselves on having access to the world's most forward thinking opinion leaders and visionaries, allowing us to bring our communities together to Learn, Engage, Share and Network. We hold events in over 30 major cities throughout the world including London, Paris and Singapore and to date have welcomed over 200,000 participants from 80 countries.
More information can be found at http://www.smi-online.co.uk.