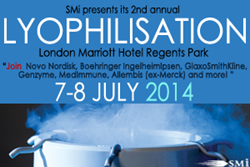 Freeze Drying Equipment Market... expected to reach USD 30.98 billion by 2019.- Transparency Market Research, 2014.
London, Southwark (PRWEB UK) 28 June 2014
Freeze Drying Equipment Market was worth USD 15.9 billion in 2012 and is expected to reach USD 30.98 billion by 2019, growing at a CAGR of 10.5% from 2013 to 2019. With increasing numbers of proteins being discovered, the importance of lyophilisation is coming to the fore, for example, as a means of extending the shelf life of pharmaceutical and biopharmaceutical products.
(Source: Transparency Market Research, Freeze Drying Equipment Market: Global Industry Analysis, Size, Share, Growth, Trends and Forecast 2013 - 2019, 2014)
Just a fortnight remains until SMi open the doors to the 2nd annual Lyophilisation conference. This event will provide an update on best practices in lyophilisation and examine the latest techniques and industry case studies. With a full 2-day programme led by industry experts, delegates will gain an array of tools and tips to deliver the best outcome for their organisation.
Event Highlights:

MedImmune discuss the advancements in Lyophilised Drug Product Development and Scale-Up. Characterisation of lab-scale to manufacturing scale freeze-dryers for robust scale-up by Jamie Biddlecombe, Scientist II, Formulation Sciences.
Novo Nordisk shares their experience with PAT implementation in pharmaceutical spray drying. Case study provided by Dr Sune Klint Andersen, Principal Scientist.
Hear GlaxoSmithKline's case study driven presentation by Massimo Rastelli, Project Leader Biopharm on the 3-stages validation approach for Lyophilized products.
Discover how the industry is edging closer to cell lyophilisation from Dr Rongjun Chen, Lecturer, Department of Chemical Engineering, Imperial College London. Cryopreservation of mammalian cells via intracellular trehalose delivery.
A keynote address on "Mathematical modelling, design and scale-up of freeze-drying cycles" from Dr Roberto Pisano, Assistant Professor, Politecnico di Torino
Genzyme Ireland collaborates with University College Cork to provide a presentation entitled "Physical Chemistry Considerations for Lyophilisation of Biopharmaceuticals" by Sean Cullen, Development Scientist.
This is just a snippet of what will be covered. Other speakers will include Boehringer Ingelheim, Ipsen, Explicit Pharma, Ellab plus many more. Click here to see the full speaker line up and conference agenda.
Some of the confirmed attendees so far include: Boehringer Ingelheim, Pfizer, Sanofi, Hoffmann-La Roche, Biogen Idec, Allembis, Norgine, Explicat Pharma, MedImmune, Novo Nordisk, GlaxoSmithKline, Ellab, Ipsen, Baxter AG, Ghent University, Genzyme Ireland, GEA Pharma Systems, GEA Process Engineering, Bavarian Nordic, Imperial College London, Chr. Hansen, LFB Technologies, SP Scientific, Lohmann Animal Health, University of Sao Paulo, The National Institute for Biological Standards and Control (NIBSC) plus more...
For those who are interested there is currently a £300 reduced rate if you book online with the following code: SMI5B8J.
--END--
For more information and full programme details, please visit:
Lyophilisation 2014: Pharmaceuticals & Biopharmaceuticals
7-8 July, 2014
Marriott Regents Park Hotel, London, UK
http://www.lyophilisation-conference.com
About SMi Group
Established since 1993, the SMi Group is a global event-production company that specializes in Business-to-Business Conferences, Workshops, Masterclasses and online Communities. We create and deliver events in the Defence, Security, Energy, Utilities, Finance and Pharmaceutical industries.
We pride ourselves on having access to the world's most forward thinking opinion leaders and visionaries, allowing us to bring our communities together to Learn, Engage, Share and Network. We hold events in over 30 major cities throughout the world including London, Paris and Singapore and to date have welcomed over 200,000 participants from 80 countries.
More information can be found at http://www.smi-online.co.uk.