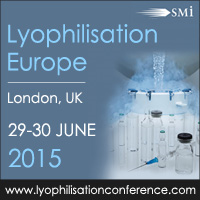 "Qbd assesses that the quality should be embedded in the product development and not only controlled afterwards" - GSK
London, UK (PRWEB UK) 20 May 2015
Following on from the well-received US show, part 2 of the Global Lyophilisation 2015 series, Lyophilisation Europe, will bring together specialists from around the world to develop possible strategies for future initiatives with a focus on QbD and PAT principles.
In the run up to the show, SMi Group spoke to some of its key speakers this year including Michael Dekner, Innovation Manager at Baxter Biosciences, Yves Mayeresse from GSK and Principle Scientist, Poul Bertelsen from Takeda.
When asked about the main challenges in lyophilisation and freeze drying technology, Michael Dekner commented:
"There are only limited parameters available with which we control the process (time, shelf-temperature, pressure). With only a few data points generated during scale up and development we aim at understanding the lyophilisation process. It would be beneficial to have more tools at hand that help to control the process…Better comprehending the process will lead to opportunities of improvement – faster cycles and even enhanced product properties."
Author and industry expert, Yves Mayeresse from GSK said:
"Today, the approach does not provide the full potential of his added value. In 2015, we have to continue implementation of this approach in the whole product development pipeline and on the legacy products to improve the product/process robustness. In term of freeze-drying, we are still looking for tools allowing us to better understand what goes on, inside the black box commonly called freeze-dryers. In a good QbD approach those tools target an increase in process/ product knowledge. At the same time scale-up model of the process will be reinforced in order to leverage the information generated at early stage showing their relevance for commercial stage."
Poul Bertelsen, who will be chairing the conference and providing an opening keynote address in a presentation on applying Quality by Design Principles (QbD) said:
"The implementation of the QbD approach in the development of medicinal products is a lengthy process that cannot be achieve overnight. I expect and hope that the QbD approach in 2015 will become closer to being a natural way of developing medicinal products and that the hands on knowledge of QbD will increase both within the medical companies and within the medical authorities."
Further information and the full speaker line-up is available at http://www.lyophilisationconference.com
All 3 interviews can be read in the conference download centre on the event website.
Lyophilisation Europe 2015
Protecting Drug Stability and optimising formulation development through robust PAT and QbD principles
29th and 30th June 2015
Holiday Inn Regents Park, London UK
http://www.lyophilisationconference.com
---END---
About SMi Group:
Established since 1993, the SMi Group is a global event-production company that specializes in Business-to-Business Conferences, Workshops, Masterclasses and online Communities. We create and deliver events in the Defence, Security, Energy, Utilities, Finance and Pharmaceutical industries. We pride ourselves on having access to the world's most forward thinking opinion leaders and visionaries, allowing us to bring our communities together to Learn, Engage, Share and Network. More information can be found at http://www.smi-online.co.uk