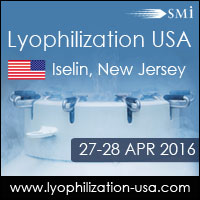 "Driving Lyo-Productivity through Practical QbD and Advanced Technologies" - SMi Group
London, England (PRWEB UK) 26 January 2016
Due to four new speakers being added onto the agenda, SMi Group are delighted to announce that a new brochure has been released for the 2nd annual Lyophilization USA conference taking place on April 27th and 28th in Iselin, New Jersey. Those who have recently confirmed to present include Allergan, Genentech, Endo Pharmaceuticals and Parexel.
Building on the success of the European Lyophilization series, SMi takes Lyophilisation & Freeze Drying to North America for the 2nd year. The agenda will look to strengthen knowledge of lyophilization productivity as well as discuss the practicalities of QbD and scale up, keeping attendees at the forefront of technological breakthroughs to adapt to the growing need for cost efficient manufacturing.
Understanding regulatory compliance, protein stability, formulation development and PAT guidelines will be a major focus, as will hearing from a selection of leading pharmaceutical companies currently implementing freeze drying processes. This will include case studies from Pfizer, J&J, Baxter Healthcare and Janssen.
Even highlights include:

Strategic guidance on life-cycle development using a QbD approach for commercialization as well as insight into regulatory QbD filings.
Panel debates which ask the audience, "Is Lyophilization the way forward?" Led by Allergan and Janssen, the discussion will explore current market trends for pharmaceutical products, alternative approaches and scalability. The panel debate on day two will delve further into the future of pharmaceutical freeze drying with input from Novo Nordisk.
Two interactive workshops on development through technology transfer (hosted by Steritech Solutions), and parenteral and diagnostic products (hosted by AB BioTechnologies).
Featured speakers include:
Jim Searles, Ph.D., Technical Fellow, Pfizer
Sune Klint Andersen, Principal Scientist, Novo Nordisk
Dr. Mark Yang, Director of Fill/Finish Development, Late Stage Process Development, Genzyme Corp
Dr Evgenyi Shalaev, Research Investigator, Allergan
Prakash Sundaramurthi, Senior Scientist, Teva Biologics
Dr. Vineet Kumar, Senior Scientist, J&J
Lisa Hardwick, Research Scientist, Baxter Healthcare
Dr Salman Mazummil, Drug Product Development, Janssen
Jamie Tsung, Principle Scientist, Drug Product Development, Momenta Pharmaceuticals
For those who are interested in attending there is currently a $400 early bird saving available which expires on January 29th. Further information including a detailed agenda is available online at http://www.lyophilization-usa.com
Lyophilization USA
April 27th & 28th 2016
Renaissance Woodbridge Hotel, Iselin, New Jersey, USA
http://www.lyophilization-usa.com
Sponsored by Emergent Biosolutions and One2One
About SMi Group:
Established since 1993, the SMi Group is a global event-production company that specializes in Business-to-Business Conferences, Workshops, Masterclasses and online Communities. We create and deliver events in the Defence, Security, Energy, Utilities, Finance and Pharmaceutical industries. We pride ourselves on having access to the world's most forward thinking opinion leaders and visionaries, allowing us to bring our communities together to Learn, Engage, Share and Network. More information can be found at http://www.smi-online.co.uk