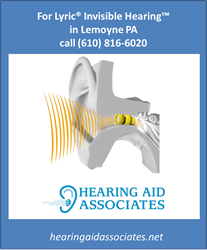 Lemoyne, PA (PRWEB) August 01, 2013
The Lyric® Invisible Hearing™ has revolutionized the hearing aid industry by offering an extended wear, truly invisible hearing device. However, not every hearing aid clinic or audiologists' office offers Lyric; they are only available through authorized locations with a Certified Lyric Provider. Residents in and around Lemoyne PA can now view, test and be fitted for the Lyric at Hearing Aid Associates. The audiology team is also happy to answers questions by phone for anyone seriously considering Lyric or any other hearing aids in Lemoyne PA.
The Lyric hearing aid is worn for up to four months at a time and does not need to be removed for swimming or showering. It is comfortably placed in the ear canal by a Lyric trained hearing professional. It fits so deeply inside the ear canal and has no protruding wires that it is entirely invisible from the outside. No surgery or anesthesia is required.
About Hearing Aid Associates:
Hearing Aid Associates is one of the most reputed hearing healthcare service providers in Pennsylvania with seven locations. Hearing Aid Associates has provided hearing aids to the Southeastern Pennsylvania area and its surrounding communities for over 10 years. The company offers a full range of diagnostic and preventative hearing healthcare professional services, including hearing aid screening, evaluations, hearing aids sales and rehabilitative and preventative counseling. The staff is dedicated to keeping abreast of the latest improvements in technological advancements in the hearing industry and is committed to offering the most current options to our patients. There are currently nine Hearing Aid Associates locations in Boyertown, Cleona, Kennett Square, Lemoyne, Palmyra, Phoenixville, Pottstown, Reading and Harrisburg.
Contact:
Ed Graberck
http://hearingaidassociates.net
Hearing Aid Associates
115 E. Main St
Palmyra, PA 17078
(717) 473-4160
Hearing Aid Associates
6 Hearthstone Ct, Suite 105
Reading, PA 19606
(610) 816-6024
Hearing Aid Associates
1610 Medical Dr, Ste 103
Pottstown, PA 19464
(610) 482-4164
Hearing Aid Associates
1220 Valley Forge Rd., Suite 1B
Phoenixville, PA 19460
(484) 985-4029
Hearing Aid Associates
35 North Walnut St
Boyertown, PA 19512
(484) 334-2595
Hearing Aid Associates
4500 Oakhurst Blvd., Suite 315
Harrisburg, PA 17110
(717) 745-1177
Hearing Aid Associates
211 West Penn Avenue
Cleona, PA 17042
(717) 685-4115
Hearing Aid Associates
305 W State St #2
Kennett Square PA 19348
(610)-400-1408
Hearing Aid Associates
20 N. 12th St., Suite 341
Lemoyne, PA 17043
(610) 816-6020