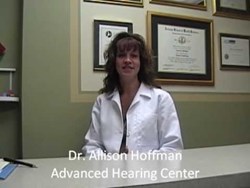 Lyric hearing aids can be worn for up to four months at a time without ever having to be removed once.
New York, NY (PRWEB) July 15, 2013
The Lyric® Invisible Hearing™ has revolutionized the hearing aid industry by offering an extended wear, truly invisible hearing device. However, not every hearing aid clinic or audiologists' office offers Lyric; they are only available through authorized locations with a Certified Lyric Provider. Residents in and around New York City can now test out and obtain the Lyric from the Certified Lyric Providers at Advanced Hearing Center. Dr. Sapodin and Dr. Hoffmann are also happy to answers questions by phone for anyone seriously considering Lyric.
The Lyric hearing aid is worn for up to 4 months at a time and does not need to be removed for swimming or showering. It is comfortably placed in the ear canal by a Lyric trained hearing professional. It fits so deeply inside the ear canal and has no protruding wires that it is entirely invisible from the outside. No surgery or anesthesia is required.
About Dr. Amy Sapodin, Au.D.
Amy Sapodin, Au.D, earned her Masters Degree in Audiology from Queens College, City University of New York, Flushing, NY and her Doctorate Degree in Audiology from the Arizona School of Health Sciences, Mesa, AZ in 2002. Dr. Sapodin is a member of the American Academy of Audiology, the American Hearing Aid Association and the American Speech and Hearing Association. Her professional certificates include a NY State Audiology License, NY State Hearing Aid Dispensing License and the Certificate of Clinical Competence in Audiology.
About Advanced Hearing Center:
Advanced Hearing Center is co-owned by Dr. Amy Sapodin and Dr. Alison Hoffmann, both Board Certified and licensed audiologists. They have been serving the hearing impaired in Nassau and Queens for over twenty years and have received several awards including the Nassau County Executive Platinum Award for their dedication to the hearing impaired.
The Audiologists and Staff at Advanced Hearing Center are proud to provide the very best in comprehensive and professional hearing healthcare services. In addition to hearing tests and hearing aid fittings, the practice offers regular workshops, seminars and open houses at their three locations. They also regularly send guest speakers off-site to educate the public about hearing loss and hearing aid technology and offer walk-in hours for patients that just need a quick repair or adjustment. Advanced Hearing Center has three locations in New York City (NYC), Alberston NY and Floral Park NY.
Contact:
Dr. Amy Sapodin
http://audiologistny.com/
Advanced Hearing Center
201 East 65th Street, 1st Floor
New York, NY 10065
(516) 858-4884
Advanced Hearing Center
1163 Willis Avenue
Albertson, NY 11507
(516) 504-3151
Advanced Hearing Center
26910 Grand Central Pkwy, Arcade 5, Building 3
Floral Park, NY 11005
(516) 629-5229