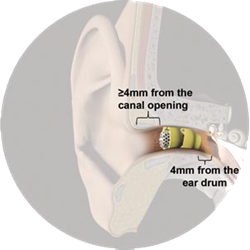 Tallahassee, FL (PRWEB) July 13, 2013
The Lyric® Invisible Hearing™ has revolutionized the hearing aid industry by offering an extended wear, truly invisible hearing device. However, not every hearing aid clinic or audiologists' office offers Lyric; they are only available through authorized locations with a Certified Lyric Provider. Residents in and around Tallahassee, FL can now test out and obtain the Lyric from Certified Lyric Provider Dr. John Koonz at Hearing and Balance Associates of NW Florida. Dr. Koonz is also happy to answers questions by phone for anyone seriously considering Lyric.
The Lyric hearing aid is worn for up to 4 months at a time and does not need to be removed for swimming or showering. It is comfortably placed in the ear canal by a Lyric trained hearing professional. It fits so deeply inside the ear canal and has no protruding wires that it is entirely invisible from the outside. No surgery or anesthesia is required.
About Dr. John Koontz, Au.D.:
Dr. John Koontz, Au.D., a Board Certified Audiologist, achieved his education through the University of Manitoba, the University of Minnesota, the Arizona School of Health Sciences, and served his internship at Henry Ford Hospital in Detroit, Michigan. He moved to Tallahassee in 2003 to expand his professional experiences at Hearing & Balance Associates where he strives to empower people to communicate freely, interact naturally and participate actively.
About Hearing and Balance Associates of NW Florida:
Hearing and Balance Associates of NW Florida has provided hearing aids in Tallahassee FL and its surrounding communities for several years. The company offers a full range of diagnostic and preventative hearing healthcare professional services, including hearing aid screening, evaluations, hearing aids sales and rehabilitative and preventative counseling. Hearing and Balance Associates of NW Florida is dedicated to keeping abreast of the latest improvements in technological advancements in the hearing industry and is committed to offering the most current options to patients.
Contact:
Dr. John Koonz
http://www.tallhba.com
Hearing and Balance Associates of NW Florida
1818 Miccosukee Commons Drive
Tallahassee, FL 32308
850-298-8407