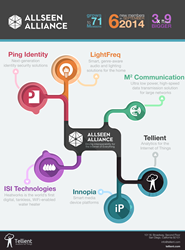 "The AllSeen Alliance is an important effort to assure that device interoperability can be achieved and to move this industry forward."
Hsinchu, Taiwan (PRWEB) September 26, 2014
M²Communication Inc, the leading wireless network technologies provider for the Internet of Things (IoT), announced today it is now a member of the AllSeen Alliance, the broadest cross-industry consortium dedicated to enabling the adoption of the IoT.
"The Internet of Things has a significant potential to be a revolutionary market force for a variety of industries, including retail. This is a sector our company is actively engaged in, with our innovative Electronic Labelling System Architecture (ELSA) solution," said Derrick Wei, CEO of M²Communication. "The AllSeen Alliance is an important effort to assure that device interoperability can be achieved and to move this industry forward."
The company joins existing members including prominent High-Tech multinational corporations such as Cisco, Microsoft, Qualcomm, Sharp, Sony, Haier, HTC, Legrand, and Symantec. Members of the AllSeen Alliance are collaborating to advance the Internet of Things' promise to seamlessly connect a range of objects and devices in homes and businesses by building out an open source software framework, called AllJoyn™. Through code that is available today and updated through contributions by members and the open source community, AllJoyn™ acts as a universal translator for objects and devices to interact regardless of brand and other infrastructure considerations
"The AllSeen Alliance's dramatic growth over the last nine months illustrates the industry's strong desire for an open, universal platform that creates a truly connected experience," said Joe Speed, director, IoT, the AllSeen Alliance. "We are excited to welcome new members and their expertise as we work to advance the Internet of Everything."
The members of AllSeen collaborate to realize the 'Internet of Everything.' M²Communication will contribute its leading wireless technologies in this alliance and work closely with current members to advance the IoT industry.
About M²Communication Inc.
M²Communication focuses on Internet of Things (IoT) wireless telecommunication protocol and systems & chipsets design. Inspired by proven cellular technologies, the company has specifically developed an ultra-low power and high-speed data transmission infrastructure for networks connecting a very large number of devices. The company applies its IoT protocol ("Platanus") and Integrated Circuits expertise to retail automation, factory automation, logistics management, as well as wireless sensor networks.
M²Communication is pioneering the next generation of automation in retails worldwide with its Electronic Labelling System Architecture family of products "ELSA". It also offers a hardware platform and Software Development Kit (SDK), "Darwin", which embodies its unique two-way protocol in an efficient electronic module, enabling the successful development of innovative applications.
About The AllSeen Alliance
The AllSeen Alliance is a nonprofit open source consortium dedicated to driving the widespread adoption of products, systems and services that support the Internet of Everything with an open, universal development framework that is supported by a vibrant ecosystem and thriving technical community. The Alliance hosts and advances an industry-supported open software connectivity and services framework based on AllJoyn™ technology accepting contributions from premier members, community members and the open source community. This secure and programmable software connectivity and services framework enables companies and individuals to create interoperable products that can discover, connect and interact directly with other nearby devices, systems and services regardless of transport layer, device type, platform, operating system or brand. For more information, please visit: http://www.allseenalliance.org.
The AllSeen Alliance is a Collaborative Project at The Linux Foundation. Linux Foundation Collaborative Projects are independently funded software projects that harness the power of collaborative development to fuel innovation across industries and ecosystems. http://www.linuxfoundation.org.
Trademarks: AllJoyn™ is a trademark of Qualcomm Innovation Center, Inc., registered in the United States and other countries.