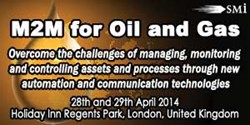 London (PRWEB UK) 29 November 2013
The market for wireless M2M applications in the oil and gas industry has entered a growth phase with the installed base of active oil & gas M2M devices forecasted to grow at a compound annual growth rate of 21.5 percent from 164,000 units at the end of 2011 to 435,000 units by 2016. The installed base of cellular and satellite based M2M devices in 2016 are forecasted to be 275,000 units and 160,000 units respectively. It is anticipated that onshore well field equipment monitoring and inland pipeline monitoring will be the top two applications for wireless M2M in the oil & gas industry.
(Source: Berg Insight, Nov 12, 'M2M Applications in the Oil and Gas Industry', http://www.berginsight.com/ReportPDF/ProductSheet/bi-oilandgas-ps.pdf)
Against this backdrop, SMi's 2nd annual M2M for Oil and Gas conference will address these developments in wireless technologies such as private radio, cellular and satellite communication, which can provide high performance online connectivity at reasonable cost. The two-day conference programme will feature case studies from Shell, BP and Petrobot among others, sharing essential insight on how these combined components enable the delivery of operations management, equipment management and regulatory compliance applications linking remote equipment and enterprise IT systems.
Key speakers include:

Berry Mulder, Global Program Leader Wireless Technology for Process Facilities, Shell
Blaine Tookey, Senior Technology Consultant Chief Technology Office, BP
Brian Partridge, Vice President, Yankee Group
Olivier Pauzet, VP Marketing & Market Strategy, Sierra Wireless
Prof. Rita Marcella, Dean of Faculty, Aberdeen Business School, Robert Gordon University
Tjibbe Bouma, CEO, Petrobot Project EU Commission
To view the complete speaker line-up and conference programme, visit http://www.smi-online.co.uk/2014m2m-oilandgas30.asp.
Big Data in M2M for Oil and Gas Post-Conference Workshop | Led by Ali Rebaie, Independent Big Data Analyst & Consultant, Rebaie Analytics Group | 30th April 2014, London, UK
This workshop will first provide an overview of Big Data and its opportunities. The second part of the workshop will focus on big data for oil & gas. We will present the data growth in oil & gas, current challenges of oil & gas companies when it comes to big data and the emerging types of big data analytics applications.