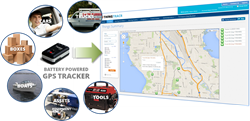 San Francisco , CA (PRWEB) July 31, 2013
SeeControl is announcing the roll out of ThingTracr, a hosted SaaS GPS tool for monitoring anything that needs to be tracked. The simple-to-use solution offers precise location tracking and historical analytics reporting for things of interest using a small and attachable GPS unit that requires no tools or wiring. The tracking service can be up and running in less than five minutes.
Using web browsers or mobile devices, a user can easily monitor the status of the tracked asset. It can be used for cars, trucks, trailers, packages, site equipment or anything else.
"There are several unique features that set ThingTracr apart from other tracking services," said Bryan Kester, CEO of SeeControl. "One is a modifiable modern dashboard that allows users to personalize how they view the tracking information in the most convenient way for them. Another is the ability to upgrade and expand to new GPS trackers globally as they come on the market."
Other important features of ThingTracr include:

90 day location history
User customizable dashboards
Low battery alarms
Satellite / hybrid map views
Multiple reports
Data export – CSV/ PDF
Trip Reports
Range of pre-certified hardware
Trip replays on maps
No Software to install browser based interface – Accessible via iPhone/ Android/ Tablets and PC/Laptop browser
ThingTracr uses various battery powered GPS devices, which can also notify users of several alarms including motion detected, speeding, and information regarding battery life.
The ThingTracr GPS tracking tool is just one of many vertical solutions available from SeeControl M2M ( Machine 2 Machine ) cloud platform. The ThingTracr solution is available through SeeControl partners including M2M distributors, Network Operators and Systems Integrators. For additional information and availability, visit http://www.thingtracr.com.
About SeeControl:
SeeControl arms Solution Integrators with one of a kind M2M Services & Applications. The Nexus platform organizes and makes sense of data from the Internet of Things with no coding skills required. Scores of customers including ABB, HP and small and medium businesses entrust SeeControl with new revenue-generating services for hundreds of thousands of things around the world. http://www.seecontrol.com.