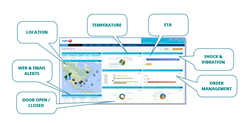 Redwood City , CA (PRWEB) September 03, 2013
SeeControl is announcing the availability of CargoTracr, a M2M global supply chain visibility solution for tracking shipping containers. The ready to use service offers precise location tracking, temperature monitoring and historical analytics reporting for assets using a self-contained easy to deploy cellular tracking device.
Standard reports provided by CargoTracr include location, tamper detection, operational information, supply chain data, door opening and more, all in real time for shipments by road, rail or sea. This solution is deployed by syncing the Rezolt RZ-416 with SeeControl's M2M software. The Rezolt device is a customizable, unique container tracking device that utilizes an ultra-long life battery and detects things such as speed, altitude and temperature. The solution offers Sub GHz interface for add on sensors and electronic seals.
Via internet enabled PCs, laptops or mobile devices, a user can easily monitor the status of any tracked container in a secure manner. The program features web and email alerts for scheduled updates or if a perceived problem occurs. The built-in workflow modules allows users to set up simple to complex processes that map to their operational requirements.
"This supply chain logistics solution is ready to go and requires little set up," Parthesh Shastri , VP of Marketing at SeeControl, says. "The Nexus M2M platform allows us to create new reports and workflows to match the monitoring requirements of the user."
Other important features of CargoTracr include:

90 day location history
Mapping of shipment
User Customizable Dashboards
Long Life Battery
Cellular GPS Sensing & Tracking solution
Low Battery Alarms
Temperature Alarms
Location Alarms – Entry / Exit
Satellite / Hybrid Map Views
Shipment Alarms and Notifications
Shipment Tampering Alarm
Shock Alerts
Elapsed time between Origination and Destination
The CargoTracr Service is just one of many vertical solutions built using the SeeControl M2M cloud platform. The CargoTracr solution is available through the SeeControl partner network. For additional information and availability, visit http://www.cargotracr.com.
About SeeControl:
SeeControl arms Solution Integrators with one of a kind M2M Services & Applications. The Nexus platform organizes and makes sense of data from the Internet of Things with no coding skills required. Scores of customers including ABB, HP and the US Government entrust SeeControl with new revenue-generating services for hundreds of thousands of things around the world. http://www.seecontrol.com