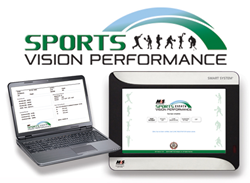 "Vision is critical to an athlete's overall performance and our software can help analyze one's ability to achieve maximum performance "
NILES, Ill. (PRWEB) September 26, 2018
M&S announces the release of its improved Sports Vision Performance (SVP) software. SVP helps athletes determine how well their eyes perform beyond a standard visual acuity test. One of the eight tests offered in SVP is new enhanced testing for Stereopsis. Depth perception is key to athletic performance. The software tests for seven other aspects of vision efficiency. The tests includes contrast sensitivity as well as the Hart Chart test, which measures the athlete's ability to shift focus from distance to near. SVP has the ability to analyze and compare the athlete's results based on norms collected from an even broader established database of professional athletes. The SVP protocol can be administered from a laptop or from the full Smart System® Visual Acuity Testing System.
"We are very excited about our improved Sport Vision Performance test. Vision is critical to an athlete's overall performance and our software can help analyze one's ability to achieve maximum performance " - Joe Marino, President & CEO
The software can be viewed at Vision Expo West in Las Vegas, September 27-29 or find out more at http://www.mstech-eyes.com.
About M&S Technologies:
Founded in 1990, M&S Technologies is a software company specializing in visual testing systems and dedicated to developing the very best products for eye-care professionals, optometry schools and universities, and products used in clinical trials. To date, over 27,000 systems are in use across 39 countries with a growing network that includes 25 distributors and several strategic industry alliances. Superior service, industry-leading technology and products that define the cutting edge have been the hallmarks of M&S for over 28 years.