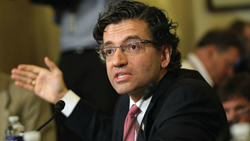 LOS ANGELES (PRWEB) November 16, 2018
More and more voices are pressuring the United States government to offer refuge to Pakistani Christian Asia Bibi, who has been imprisoned for nine years because of "blaspheming" Mohammed, now that she was recently acquitted and released from death row.
Although her whereabouts since her release from prison last Wednesday are not known by other countries, the Pakistani foreign ministry on Sunday denied reports that she had left the country, calling them "false and baseless."
Meanwhile, tens of thousands of Muslim zealots calling for her execution have protested across the country, causing millions of dollars in damage, in support of a legal challenge to the Supreme Court exonerating her. The judges have also been threatened to be killed.
Asia Bibi has many supporters in the United States, with more than 820,000 people signing an American Center for Law and Justice petition against her execution.
"The Trump administration has an opportunity to not only do what's right and humane for Asia Bibi but change the immigration narrative," said Dr. M. Zuhdi Jasser, president of the American Islamic Forum for Democracy, which was founded in 2003. He is also a contributor to national and international media, where he has advocated separation of mosque and state and spoken against the ideology of "political Islam" or Islamism.
Pakistan currently has some of the world's most controversial blasphemy laws – including the death penalty for insulting Mohammed, and life imprisonment for defiling the Quran. Other governments have bowed to radicals' demands not to amend them, concerned about their own safety.
More than 40 people sit on death row for the offense, although Asia Bibi is the first Christian woman to receive the sentence. Apart from those convicted of blasphemy, 65 other Pakistanis have been murdered since 1990 over reported "blasphemy."
The British Pakistani Christian Association (BPCA), an advocacy group, reported that the British government is evidently not prepared to offer Asia Bibi asylum for fear of a hostile response from British Muslims.
"The UK is too spineless in its policies against Islamists," responds Dr. Jasser, "give Asia Bibi and her family asylum now from the torrent of Islamist mobs!"
He points to an article on the U.S. website of Britain's The Spectator, in which writer Ben Sixsmith pointed out the British government's reluctance to help. "If the British government is too weak to offer Bibi a safe haven, America should, Jasser concludes, "It would be a valuable demonstration that, for all President Donald Trump's toughness on immigration, America can still be a sanctuary to those fleeing religious persecution."