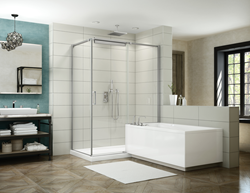 These two new product lines reflect MAAX's long tradition of championing innovation to meet the evolving needs of the marketplace-- André Deland, Vice President, New Product Development & Marketing, MAAX Bath, Inc.
Lachine, Quebec (PRWEB) April 22, 2016
MAAX Bath Inc., a leader in the North American bathware industry, is launching two new products which will make it easier than ever to achieve a stylish, custom look in the bathroom. ModulR features bathtubs, shower bases and shower doors that allow easy customization and maximum space utilization for any type of bathroom space. Easy to install and maintain, U tile is an innovative shower wall panel solution that is an alternative to conventional ceramic tiles.
"These two new product lines reflect MAAX's long tradition of championing innovation to meet the evolving needs of the marketplace," says André Deland, vice president of new product development and marketing for MAAX Bath, Inc.
The ModulR solution enables a wide variety of configurations for bathtubs, shower bases and doors that best suit the dimensions and designs of any bathroom. A simple to use web-configuration tool is available to create the perfect combination in just a few simple steps, as well as to customize the products' color, dimensions, frame finish, drain position, options and accessories. The fact that there are so many different configurations to choose from allows customers to maximize every square inch of their bathroom and create a unique and attractive signature look. The ModulR products are ideal for remodeling projects or new urban construction where space is often limited.
U tile features an engineered polymer surface for a real stone and tile experience. The U tile system is faster to install than ceramic tiles thanks to a mistake-proof "Ulok" system, making it easier to perfectly align the walls—just slip them together and lock them into place. With direct-to-stud installation, U tile is also grout-free, eliminating messy grout installation, maintenance and periodic repair, and reducing the risk of leaks. U tile is backed by a 10-year warranty and is available in a multitude of patterns, including: Organik, Factory, Marble, Wallpaper, Smooth and Erosion series.
About MAAX
MAAX Bath Inc. is a leading North American manufacturer of trend‐setting and award‐winning bathroom products, such as bathtubs, showers and shower doors. MAAX wants its customers to "enjoy the experience" by offering stylish and innovative quality products coupled with world‐class customer service practices that make doing business easy and efficient for all.
MAAX offerings are available through specialty boutiques, plumbing wholesalers and home improvement centers.