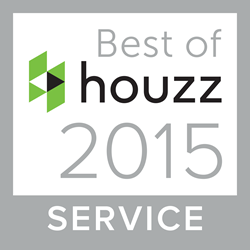 "We've been a local industry leader for the last 30 years, and our goal is always to provide start-to-finish, worry-free service for our customers." - general manager Anthony Ivelia
Portland, OR (PRWEB) March 18, 2015
Macadam Floor and Design of Portland has received the 2015 "Best Of Houzz" for Customer Satisfaction by Houzz, the leading platform for home remodeling and design.
Macadam Floor and Design, which offers customers a stunning selection of flooring, window coverings, and countertops, including popular choices like hardwood flooring, laminate flooring, granite countertops, and blinds, was chosen by Houzz from more than 500,000 homebuilding, remodeling, and design industry companies and professionals.
Houzz provides more than 25 million users with home improvement information online or from a mobile device. From decorating a room to building a custom home, Houzz connects homeowners, home design enthusiasts, and home improvement professionals across the country and around the world. Among the Houzz criteria for its customer satisfaction award is the number and quality of client reviews received in 2014.
"All of us at Macadam Floor and Design are honored to have received this award, and we feel that it's well-deserved," said general manager Anthony Ivelia. "We've been a local industry leader for the last 30 years, and our goal is always to provide start-to-finish, worry-free service for our customers."
As one of the largest flooring providers in the Northwest, Macadam Floor and Design passes on to its customers the lowest prices available for quality products and services. The company is always alert for new styles, new products, and terrific colors to refresh the look of any home. Macadam Floor and Design seeks to create the most beautiful home or office possible with the lowest prices and exceptional customer service.
Ivelia praised the company's employees and contractors as the driving contributors to the company's success, claiming that their customer service, subject knowledge, professionalism, and performance has helped Macadam Floor and Design earn its sterling reputation.
"Our high standards ensure the best design and best finished product, regardless of what the customer needs or the price point," Ivelia said. "Of the huge spectrum of independent contractors in this industry, those we use are the best in the business, and we've been working with some of them for 10 years or more. It's a big decision to let contractors into your home, to trust and rely upon them. You're putting lots of eggs in the basket of the people doing your job, and we make sure our clients' trust is well-founded."
For more information on the company's products and services, Macadam Floor and Design general manager Anthony Ivelia invites prospective customers to visit the website at http://www.macadamfloors.com. Customers can also contact the store at 503-246-9800 or visit in person at 6655 SW Macadam Avenue in Portland, OR 97239.
Macadam Floor and Design has been a local industry leader for the last 30 years, offering extensive knowledge, professionalism, and quality service to its customers from start to finish. The company takes pride in having assembled one of the largest product selections and most welcoming design centers in the Northwest, which allows it to offer customers worry-free, competitively-priced, one-stop shopping from start to finish.