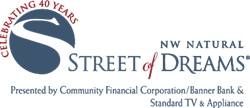 We are honored to take part in the start of what will surely be a beautiful community." Anthony Ivelia, General Manager for Macadam Floor And Design
PORTLAND, Ore. (PRWEB) August 04, 2015
Macadam Floor And Design will be participating in the 2015 Street of Dreams event, taking place this year in The Highlands of Lake Oswego. Ranked "Best Of" for the past two years by Houzz, Macadam's design team will be designing four of the nine houses included in the annual event, as well as providing all products.
The Street of Dreams is Portland's prestigious annual showcase of luxury real estate. The new community has been thoughtfully developed to highlight innovative design and construction, as well as the finest homes available in the area.
"This is such an exciting project, and a great opportunity for Portland to showcase some of our most talented designers," said Anthony Ivelia, General Manager for Macadam Floor And Design. "We are honored to take part in the start of what will surely be a beautiful community."
The 2015 Street of Dreams will also be the first to include a luxury remodel by one of Portland's premier remodelers. Designed by celebrated architect John Yeon, the Shaw House - a lesser-known design - is considered one of his finest. It showcases Northwest Regional Style, emphasizing composition and proportion with an acute attention to detail. Yeon was the pioneer of this now classic design.
Macadam Floor And Design has established itself as a leader in design, offering a wide variety of products and services for every type of customer. For over 30 years, Macadam has provided the greater Portland area with the very best in unique flooring, carpeting, window coverings and other green products.
For more information about the 2015 Street of Dreams event taking place in The Highlands of Lake Oswego, visit http://www.macadamfloors.com, call 503-246-9800, or stop by our Design Center, Macadam Floor And Design, 6655 SW Macadam Ave, Portland, OR 978239.
Macadam Floor And Design has been helping home and business owners create unique environments for over 30 years. With a huge selection of floor and design options, our professional design consultants can help guide you through the process one step at a time. Whether you are remodeling an old space or creating a brand-new one, we will help you bring your vision to life at an affordable price.