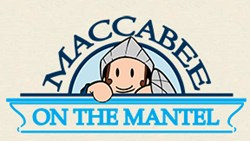 It's touching people from all walks of life, far beyond what we could have ever imagined.
Dallas, TX (PRWEB) December 17, 2013
Hanukkah may have already come to a close, but sales of the book and toy combination Maccabee on the Mantel - the Jewish equivalent of the popular elf-centric combinations on the market this time of year - continue to soar. Surpassing all expectations, the product has sold out three separate times, and demand continues to grow.
"It has been the most amazing experience," explains author Abra Liberman-Garrett. "We've heard from interfaith families so grateful to finally have a way to enjoy both Christian and Jewish elements in their holiday traditions. We've heard from people of other faiths who are understanding Hanukkah for the first time. It's touching people from all walks of life, far beyond what we could have ever imagined."
Part of the popularity of Maccabee can be attributed to the educational nature of the toy. Developed under the guidance of Rabbis in Garrett's community, there's a reason the company claims their product is, "Kid Tested, Rabbi Approved." Maccabee's consistency with Jewish teachings has helped to distinguish it from competitors. The decision to take this approach was a deliberate one, and it's paying off.
"It was really important to us that the story stand up as something that could be used in a Sunday School classroom," explains Garrett. "We're already seeing that happen, which is tremendously rewarding." Abra, who taught at a Temple Pre-School for five years, said "We realized we had a choice: we could just produce a generic, Jewish response to that ubiquitous, cute little red elf we had seen everywhere, OR we could take this opportunity to educate and enlighten children. After all, this is the actual story of Hanukkah and we had the history and a hero to teach about."
While the idea of using toys and fiction to advance learning is nothing new, its application in faith-based settings on this scale is rather unique. Toy Vey! hopes that introducing stories that are so important to the Jewish faith in this manner will help kids, in particular, better connect with the teachings. And they're not done yet. The team is already hard at work on several additional products that should hit the market later this year.
The Maccabee on the Mantel book and plush doll are available for purchase here. To learn more about the story and its creators, visit the website at MaccabeeontheMantel.com.
###
Toy Vey! is a toy design and distribution firm in the Dallas Fort Worth metroplex. Their mission is to empower families to create a joyous custom that ignites a child's excitement about their heritage as well as their desire to learn more about who they are and where they come from through engaging literature and toys. To learn more about Toy Vey and their backstory, click here.